Methodist minister Lea Matthews is on a mission to stop an undocumented mother from being deported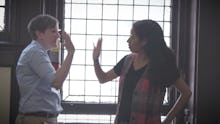 When Rev. Lea Matthews answered her phone in early June, she did not realize the call would be a divine one.
"I got a call on a Saturday night and was informed that there was a family that needed an immediate safe space," Matthews said in a video interview. "And would this church be interested in providing that safe space."
Matthews, an associate pastor at St. Paul and St. Andrew United Methodist Church in New York City, and her senior pastor K Karper, recently joined New Sanctuary Coalition, a nationwide coalition of faith organizations committed to advocating and providing for undocumented people in need. They were actively demonstrating and protesting the recent "zero tolerance" policy enforced by the Trump administration at the U.S.-Mexico border, but the step to house a family had not crossed their path.
"I called the senior pastor K Karper and I said, 'Well our theory is being questioned. What are we going to do about this very real life this being affected?'" Matthews said.
Without knowing many details about the family, other than that they were in need, the church moved quickly to arrange a living space in a nursery room.
Two days later, a woman named Debora Barrios and her 2-year-old daughter arrived at the church.
Barrios recently was served a deportation order after living in the United States since 2005, when she was forcibly brought over from Guatemala. Upon her arrival to the U.S., she sought asylum from the danger in her home country, but due to miscommunication, she did not show up for her court date and was denied in absentia.
Despite her denial, Barrios remained in the U.S., got married and had two children. She became an active member of her church, her community and her job's union.
"And she's driving one day and gets pulled over because of a taillight or something and learns that, that you know, there is a warrant," Matthews said. "She was to report to ICE with a ticket back to Guatemala. And so she was trying to prepare herself to separate from her children."
If Matthews and Karper had not stepped in to provide refuge, Barrios would have been removed from her home and deported. While Barrios remains separated from her husband and son, she and her daughter are safe at the church.
"My son, when he hear this, my situation now, he says, 'Mom, then my dreams are gone.'" Barrios said. "And then I told him don't think like that because your life, there is many better things that can happen."
Barrios said she now can understand the pain of the mothers who were separated from their children at the border due to the Trump administration's policy.
In April, Attorney General Jeff Sessions announced the effectuation of an immigration policy that would separate children from their parents as they await prosecution for illegal entry at the U.S.-Mexico border. The policy resulted in the separation of around 2,000 children from their parents in the first six weeks and received broad criticism from Republicans and Democrats alike.
On Wednesday, President Donald Trump signed an executive order overturning the policy and prohibiting any new families entering the U.S. from being separated. However, the order doesn't unite families like Barrios' — ones who are already here and already separated.
Matthews, as a Methodist minister, believes the Trump administration's immigration policies targeting the U.S.-Mexico border and Sessions' Bible-based defense of them are a bad representation of the religion she follows and preaches.
"This is not the Christianity that is my Christianity," Matthews said. "It's not the Jesus that I follow. It's not the brown-skinned refugee of a savior that told us in no uncertain terms to love our neighbors as ourselves. We're instructed to welcome the stranger."
She and her congregation are committed to protecting Barrios from deportation and are preparing for the possibility of U.S. Immigration and Customs Enforcement knocking on their door.
"I think that that fear can weigh heavy on us," Matthews said. "It was [Debora's] choice to go public and we want to amplify her story. It's our hope that pressure can be put on the system. That ICE who has the rights to give a stay of deportation even for a year would do so in listening to this story and listening to this individual family and how this big system is affecting these four people because they are four people, and they're very real."
Watch more of our interview with Matthews and Barrios above.