Melania Trump wore a jacket that read "I really don't care" before visiting detained children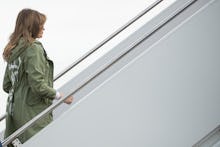 Good afternoon, people of America. Hope you've had a nice day before reading this because... yikes.
On Thursday, first lady Melania Trump made what is perhaps her most bizarre fashion statement yet. For flying to Texas to visit a facility where children have been detained since attempting to enter the United States, Trump wore a jacket with the words: "I really don't care, do U?" written on the back.
No, like we're serious.
Here's the green jacket, which the Daily Mail reported is from Zara, with what seems to be identical script to the one Trump wore. It went for $39.
Here's Trump boarding the plane in said jacket, with the words partially blocked.
And people thought those hurricane heels were inappropriate.
She, thankfully, removed the jacket before landing in Texas and entering the facility where, again, children are being held. Some of them are in cages.
What to make of this? Honestly... we do not know. This is a woman who knows that every single move she makes in public will be scrutinized — her fashion especially. (Mic has an entire series dedicated to tracking what she wears.) She understands fashion, and how much power it can wield in any situation. If the first lady of the United States walks out into the world wearing a jacket with the question "I really don't care, do you?" is she not explicitly trying to send a signal that she doesn't care?
Trump has not used fashion as a diplomatic tool nearly as much as, say, Michelle Obama, but she has had moments where she's used something as simple as a dress color to show support of a country and its culture.
Trump's spokesperson Stephanie Grisham released a statement on the jacket controversy on Thursday, saying: "It's a jacket. There was no hidden message. After today's important visit to Texas, I hope this isn't what the media is going to choose to focus on."
To that we'd argue: The idea of a "hidden message" wasn't the issue. The message wasn't hidden, as it was scrawled pretty clearly on the back of that jacket. The issue is that there are plenty of jackets out in the universe that don't have snarky comments like that scrawled across the back. She could have chosen any of them that don't allude to her not caring about the issue she's about to come face-to-face with, but she chose this one instead. Why?