Mic Daily: Melania Trump's "I really don't care" coat, lawsuits alleging immigrant abuses and more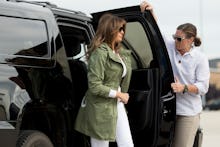 Welcome to Mic Daily: Mic's short, smart email newsletter that cuts through the noise and lands in your inbox every weekday. We carefully curate each edition to send you a cross section of our most impactful, vital, touching stories of the day.
Good afternoon, people of America. Hope you've had a nice day before reading this, because... yikes.
First lady Melania Trump made Thursday what is perhaps her most bizarre fashion statement yet. For flying to Texas to visit a facility where children have been detained since attempting to enter the United States, Trump wore a jacket with the words "I really don't care, do U?" written on the back.
When the investigative news organization ProPublica first released the now-infamous audio of a crying 6-year-old child who had been separated from her parents at the border, it quickly captured the attention of concerned citizens everywhere. National progressive groups are now working to make sure the nation does not forget what it sounds like when a child is ripped away from their parents.
At least six women and girls have been reported missing in Chicago since March, stirring fear among residents as the stories spread on social media. Aziya Roberts, a 13-year-old South Side of Chicago resident, was alarmed after she saw these stories on her Facebook timeline in late May.
Thus, the #WeWalkforHer march was born.
Unaccompanied immigrant children held in private, government-funded juvenile detention centers are alleging widespread physical and mental abuse in a pair of lawsuits that have surfaced amid the influx of asylum-seeking families being separated at the border.
Much of the food in grocery stores is marked with labels that tell shoppers where it came from and how the animals who produced it were treated — though whether these labels are meaningful is a whole other story. What's less transparent is how humans working in the supermarket food supply chain are treated.
Global nonprofit Oxfam released a report Wednesday that illuminates the often brutal and inhumane conditions supply chain workers and farmers are subjected to while they make it possible for items like seafood, produce, coffee and tea to fill supermarket shelves.