A food trail celebrating Anthony Bourdain may be coming to New Jersey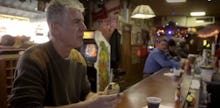 One New Jersey politician wants to honor Anthony Bourdain with a commemorative food trail following some of the late chef's favorite restaurants.
Democratic Assemblyman Paul Moriarty proposed the trail — which would include 10 restaurants that appeared in a 2015 episode of CNN's Parts Unknown — to the state's Division of Travel and Tourism on Monday.
"There's no question that Anthony's road to fame was not an easy one," Moriarty said in a statement. "Even after international fame, he never forgot his Jersey roots. Each episode, Bourdain brought his homegrown wit, charm and sense of humanity to his viewers. He became a New Jersey food icon."
Lucille's Country Cooking co-owner Karen Flynn fondly recalled Bourdain filming Parts Unknown in her restaurant several years ago and said she looks forward to the prospect of a proposed trail honoring him.
"He was so gracious and stayed quite a while — we tried to act natural," Flynn said in a phone interview. "And we've had a lot of customers that come in because of him; [they] ask about him and want to try what he ate."
Bourdain was raised in Leonia, a small New Jersey suburb eight minutes outside of New York, and spent summers in Cape Cod's Provincetown as a dishwasher before enrolling at the Culinary Institute of America. In a 2015 interview with (201) Magazine, Bourdain spoke of his New Jersey roots and his connection to the state's food scene.
"The greatness of Jersey, to me, is the indigenous New Jersey food," Bourdain said. "The tomatoes, the corn in summer, the steamer clams, the fried blowfish tails that I used to have as a kid down on the shore, salt water taffy on the boardwalk."
The proposed Anthony Bourdain Food Trail would include Dock's Oyster House, Tony and Ruth Steaks, Kubel's, Lucille's Country Cooking, Frank's Deli, Knife & Fork, Tony's Baltimore Grill, James' Salt Water Taffy, Donkey's Place and Hiram's Roadstand, which Bourdain once referred to as his "happy place."
Netflix announced recently that it would continue streaming past episodes of Parts Unknown. "Every time the episode airs, it seems like people always come in because of it," said Flynn of Lucille's Country Cooking. "it's been so wonderful."