Feminist brand Wildfang puts its own spin on Melania Trump's jacket with an "I really care" line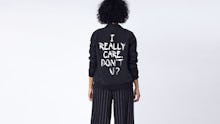 On Thursday, the world was given one of the most thoughtless fashion statements a first lady has made in recent memory.
On her way to visit facilities on the Texas border that are holding children who have recently attempted to cross the border, Melania Trump wore a jacket with the words "I really don't care, do U?" written across the back.
Her spokesperson said there was no "hidden message." Her husband said it was simply a statement to the... wait for it... fake news media.
Outrage has ensued, and socially conscious fashion brand Wildfang is now turning that "I really don't care" message into an "I really care" message with a whole new collection.
With 100% of proceeds going to Refugee and Immigrant Center for Education and Legal Services, the line so far includes a T-shirt, two bomber jackets (one of which is green, like Trump's) and a sturdier army green jacket nearly identical to Trump's with the words "I really care, don't U?" printed in familiar font.
What a beautiful way to troll.
"Within a few hours we decided as a team we wanted to do something — this could not go unnoticed — so we put our heads together and went with impact," Emma McIlroy, the co-founder and CEO of Wildfang, said in an email.
Wildfang has long used its fashion to get political — and also give back. In January, it started an Indiegogo campaign to fund the last remaining abortion clinic in South Dakota.
"It seemed fairly obvious to us," McIlroy said. "What's happened this week in our country is appalling. Our whole team is outraged and we refuse to stand by and watch. We stand proudly with immigrants and support their rights, and RAICES does amazing things for these families."
According to the brand, the army green jacket sold out in one hour, was already restocked and will be shipped out in three weeks. All proceeds go to RAICES immediately.
"Our customers have gone bananas over this," McIlroy said. "The support is overwhelming and we couldn't be more proud to align with them in support of these families."
On Monday morning, the brand told Mic that it had raised $250,000 thus far for RAICES, with more surely to come in.
June 25, 2018, 9:49 a.m.: This post has been updated.