What Melania Trump wore her 74th week as first lady — including that "I really don't care" jacket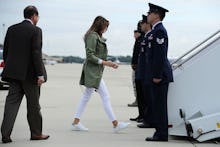 It was such a serenely quiet week for Melania Trump and her fashion until about 2 p.m. Thursday, when the world saw the jacket that Trump wore on her way to Texas, where she was traveling to see some of the children who are being detained after attempting to cross into the United States.
If you've been lucky enough to avoid the internet entirely these past 24 hours, it said "I really don't care, do U?" on it. The phrase caused many to ask: Is that the message the first lady should be showing the world in a time like this?
This is what she wore this highly eventful week:
Tuesday, June 19: A Valentino dress for meeting with Spain's king and queen
For a visit with the king and queen of Spain on Tuesday, Trump wore an olive green and white dress with embroidered flora by Italian brand Valentino.
Spain's Queen Letizia, meanwhile, used her fashion more strategically and wore an American brand: Michael Kors, one of Trump's favorite designers.
Thursday, June 21: A green jacket and white outfit for visiting detained children at the U.S. border
Let's talk about the outfit we all saw Trump wearing while arriving at Andrew's Air Force Base in Maryland, where she got on the plane that took her to Texas. With a white shirt, pants and sneakers, she didn't repeat her "hurricane heels" fiasco, which resulted in people calling her insensitive for wearing stilettos on her way to visiting families devastated by Hurricane Harvey.
But then there was the curiously juvenile Zara jacket, which had the words "I really don't care, do U?" scrawled across the back.
Once she touched down in Texas, she ditched the jacket and toured facilities in a white ensemble.
But then — we just noticed ourselves — when she touched back down in Maryland after visiting Texas, she was again wearing that jacket, putting it in clear view of press photography.
Think for a second about what would have happened if Michelle Obama wore this. Imagine Michelle Obama choosing to wear this, period.
For a first lady as quiet as Trump, her fashion is analyzed thoroughly. She knows this, and she wore a jacket with a message written out across the back that said, quite literally, "I really don't care." Again, is that something you want your first lady to be telling you?
In regards to the jacket itself, this is a woman who wears almost exclusively high-end brands and dresses uniformly, and now she decides to wear a jacket from Zara that would be more fit on a snarky 16-year-old.
It was completely out of character for her and her style profile, and we continue to be baffled.
You can read previous recaps of what Melania Trump wore here.