Antoni Porowski of 'Queer Eye' opens up (a little) about his new restaurant in New York City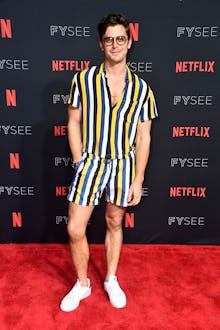 Very few get the chance to receive a makeover from the Fab Five on Netflix's Queer Eye series — but it may not be long before everyone gets a chance to experience Antoni Porowski's culinary creations IRL.
During a recent interview with his Queer Eye co-stars in New York City, the show's resident food expert let slip that he's planning to open his very own restaurant in the city, without offering many details. In an interview with Mic on Friday, Porowski discussed his vision for the "fast-casual" restaurant concept a bit more — though he still kept specifics close to the vest.
"I work out a lot [Editor's note: Yeah, girl, we know.] and when you work out a lot, you kind of want to take care of your body," he said. "You don't want to have mac and cheese right after a workout, so I do a lot of shakes and juices and green salads and things like that. So it kind of organically came up, the opportunity to open up a healthy, fast-casual type concept."
But Porowski doesn't want to just launch another overpriced salad joint. He said he hopes to infuse his new restaurant with a bit of nostalgia, channeling the essence of a old-fashioned culinary staple: the diner.
"I really want to answer to that fact that diners don't really exist anymore," he said. "I love nostalgia. So for me, it's a really sad thing, and I want to figure out how we can sort of keep that, but in a more health-conscious way: where you can eat something that's decadent and nice and feels good, but that is still really good for you, where you don't have any shame or regret afterwards — unless you eat too much of it."
Porowski said he also sees this new restaurant as an outlet for him to express a side of himself that isn't seen as much on Queer Eye.
"Queer Eye is not a cooking show," he said. "It's about the simplicity of planting the seed of teaching somebody a small little tidbit of information that they can hopefully relay into other facets of their culinary efforts. My [upcoming] cookbook is a personal story. It's my own culinary memoir. And this restaurant is an offering to show people what my day-to-day when I'm in New York is like and the kind of foods I want to eat."