Mic Daily: An $18 million fundraiser, the importance of the Supreme Court's latest ruling and more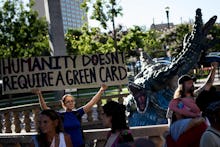 Welcome to Mic Daily: Mic's short, smart email newsletter that cuts through the noise and lands in your inbox every weekday. We carefully curate each edition to send you a cross section of our most impactful, vital, touching stories of the day.
As American citizens hear more stories of children crying and begging as they're separated from their parents at the southern United States border, see more pictures of the cages in which they are kept and the tin-foil-like blankets in which they are cloaked, they are increasingly ready to say, "Enough."
The public has now spoken with their wallets — to the tune of $18 million within five days.
The U.S. Supreme Court upheld Americans' right to keep their digital information private Friday, as they ruled that cell phone location data is protected from warrantless searches under the Fourth Amendment.
And, despite its narrow scope, the Supreme Court's ruling is a significant win for digital privacy advocates.
One New Jersey politician wants to honor Anthony Bourdain with a commemorative food trail following some of the late chef's favorite restaurants.
Democratic Assemblyman Paul Moriarty proposed the trail — which would include 10 restaurants that appeared in a 2015 episode of CNN's Parts Unknown — to the state's Division of Travel and Tourism on Monday.
It's been less than a month since ABC announced it was canceling the rebooted version of Roseanne following racist and offensive tweets from star Roseanne Barr. But now it's looking like the show's Conner family may make yet another comeback — this time without its matriarch.
Want more Mic in your inbox? Subscribe to Hype Daily, our brand-new culture and entertainment newsletter