Trump says new poll numbers show voters think Russia probe is a "witch hunt." He's wrong.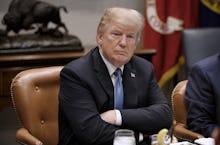 On Saturday, Donald Trump woke up and began his day by firing off a message to his closest advisers.
"Poll numbers plummet on the Democrat inspired and paid for Russian Witch Hunt," the president tweeted. "With all of the bias, lying and hate by the investigators, people want the investigators investigated. Much more will come out. A total scam and excuse for the Dems losing the Election!"
Trump appears to have been referencing a CNN poll conducted by SSRS and released Friday, which showed the approval of Robert Mueller's handling of the Russia investigation is at 41%, down 3 percentage points from May. But approval for Mueller's handling of the investigation remains above water, with 39% disapproving of the way he is handling the investigation.
By contrast, only 29% of voters approve of the way Trump himself is handling the investigation, the lowest support since SSRS began asking the question in August 2017. The percentage of people who disapprove of Trump's handling of the investigation was 55%.
The poll also found that a majority of Americans — 55% — believe the Russia investigation is a serious matter and worthy of investigation, a slight decrease from May when 58% of voters said the same.
Still, the number of people who believe the Russia investigation is an effort to discredit Trump's presidency has also fallen from 38% in May to 35% and the number of people with "no opinion" on the Russia investigation is the highest it's ever been.
The SSRS poll did not, as Trump's tweet implies, ask voters whether they want a second investigation into the FBI and federal investigators. However, a Harvard CAPS/Harris poll conducted in late April did find that Americans strongly favored a second investigation by nearly three to one.