Coming up this week in politics: Supreme Court issues major rulings as immigration debate continues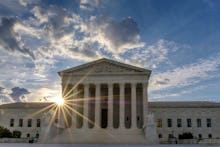 Amid the still-developing immigration crisis concerning children who've been separated from their families at the U.S.-Mexico border, Washington, D.C., is set for another high-stakes week concerning immigration, foreign policy and more.
The U.S. Supreme Court is set to issue a ruling on President Donald Trump's controversial travel ban as it finishes out its term, while Congress will continue its ongoing debate on immigration as the House prepares to vote on a Republican-led immigration bill.
Here's what to expect from the political week ahead.
Supreme Court: The court is scheduled to issue its final rulings of the term Monday, though it is possible additional days could be added to the docket. Rulings are expected on several major cases concerning labor unions, racial gerrymandering, "crisis pregnancy centers" and, perhaps most notably, Trump's travel ban.
Primary elections: Voters in seven states will head to the polls Tuesday for primary elections in Colorado, Maryland, Mississippi, New York, Oklahoma, South Carolina and Utah. In Maryland, activist and former convicted leaker Chelsea Manning is challenging Democratic incumbent Ben Cardin for his Senate seat, though Cardin is heavily favored to win. Former Massachusetts governor and 2012 presidential candidate Mitt Romney is running to fill Utah Sen. Orrin Hatch's soon-to-be-vacated seat.
Trump has lent his support to South Carolina Gov. Henry McMaster, who is facing challenger John Warren in a runoff election. Trump will visit South Carolina on Monday to show support for McMaster; Vice President Mike Pence also campaigned for McMaster on Saturday.
Congress: The House of Representatives is set to consider the Republican-sponsored compromise immigration bill H.R. 6136 this week, which includes a pathway to citizenship for recipients of the Deferred Action for Childhood Arrivals program and billions in funding for Trump's border wall. The upcoming House vote comes despite the president's seeming disapproval; Trump said on Twitter on Friday that Republicans should "stop wasting their time on immigration" before the November midterms.
Congress' schedule this week also includes a Senate confirmation hearing for potential IRS commissioner Chuck Rettig, who will be tasked with overseeing the Republican Party's new tax plan as it takes effect for the 2018 tax season. On Wednesday, the House Judiciary Committee will hear testimony from FBI agent Peter Strzok, who was removed from special counsel Robert Mueller's investigation after it was revealed he and colleague Lisa Page had sent text messages that were highly critical of Trump.
Immigration detention: This week's headlines will likely continue to be dominated by the ongoing controversy over a Trump administration policy that led to the separation of at least 2,000 immigrant children from their parents over a six-week period in April and May. The departments of Homeland Security and Health and Human Services released guidance Saturday claiming the government has a "well-coordinated" process for reuniting children with their families, though only 522 children have been reunited with their families thus far.
It remains unclear who will take ultimate responsibility for the family reunification, CNN reported Sunday. The onus has previously been on parents to find their children using an HHS hotline that has been described as "confusing and often ineffective."
Trump's agenda: In addition to his trip to South Carolina on Monday, the president is set to host Jordan King Abdullah and Queen Rania at the White House. He'll meet with Portuguese President Marcelo Rebelo de Sousa on Wednesday before holding a rally in Fargo, North Dakota, the same day. Trump will also travel to Wisconsin on Thursday; he's scheduled to meet Tuesday with the Associated Builders and Contractors national executive committee.
Trump's team heads abroad: While Trump stays stateside this week, key members of his team will travel abroad on foreign policy visits. Defense Secretary Jim Mattis will head to China to continue discussions over Trump's impending tariffs on Chinese goods and denuclearization in North Korea. National security adviser John Bolton will go to Moscow to make preparations for a potential meeting between Trump and Russian President Vladimir Putin, one that will likely take place around the NATO summit in Brussels in July.