Mj Rodriguez of 'Pose' talks playing Blanca, ballroom culture and trans representation on TV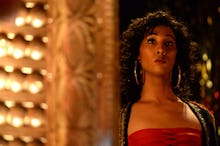 The first time you see the character Blanca on Pose, FX's groundbreaking show that focuses on ballroom culture in 1980s New York City, she is being chastised by her house mother in the ballroom scene, Elektra.
In the following few scenes, we see her robbing costumes for the ball from an art museum, being told she has HIV and then making the bold move of leaving her ballroom family and starting one of her own. And so begins Blanca's dramatic and often moving storyline on Pose, which is unlike any other story being told on TV right now.
The actress who plays Blanca, Mj Rodriguez, understands how unique this role and experience is. For the past few years, she's largely been a theater actress, with a breakout performance in an off-Broadway production of Rent, for which she played Angel, who is HIV positive as well. Then along came Pose, with its concept of bringing in transgender actresses to actually play transgender characters and help tell their stories. "Not only just for me, but for all the other beautiful trans women, I just couldn't help but be happy," Rodriguez said in a phone interview with Mic.
Mic caught up with the actress to talk about her breakout TV role, her past in theater and what this show has meant to her so far. This interview has been edited and condensed.
Mic: How did the role of Blanca come into your life?
Mj Rodriguez: I was in the midst of having a moment. I was talking to my mom on the phone, saying things like, "I don't know what's happening, but I'm just gonna try my best." There was a lot of no's coming my way and then Pose came along and a lot of my friends said, "You need to go audition for the show!"
Without knowing it, my agents sent me in for it, too. I was like, "I have to have this opportunity," and I finally got an audition and the rest is history. I was blessed.
This really is your breakout role on TV, and it's on a show that has the most transgender and LGBTQ actors ever on a major TV series. Did that immediately add to how important it was for you to land this role?
MR: It was clear that we were all part of something so dynamic and groundbreaking. I finally felt like I arrived and I know that sounds crazy, but there was a moment in time in my life that I felt like I hadn't arrived. A lot of people weren't seeing me and a lot of people didn't want to see me as I was.
What did it feel like on one of your first days on set, being a part of a cast that has so many transgender and LGBTQ actors?
MR: When I first got on the set, I had done a movie with Indya Moore [who plays Angel on the show], and Dominique [Jackson, who plays Elektra] and I had met through an event, so it was great to see people who were familiar faces. It felt like a family function. It felt like we were here to make a change.
When you were first faced with a character like Blanca, what kinds of preparation or studying did you do to get into the role?
MR: As far as preparation goes, I always try to pick pieces and parts of my life and incorporate them into the character. There are many things in my life that I brought into the role. Then I want to get into the space and really understand how she wants to leave a legacy.
What kinds of things did you feel like you and Blanca have in common?
MR: The similarities were basically that there were moments in my community, too, when I had derogatory slurs thrown at me, and Blanca seems to get a lot of this through the episodes. She's also someone who's trying to take negativity and bring it into a positive light. She still has a strong light and has a nurturing spirit.
Whenever I felt down, I always found a way to bring myself up, and she's a very dynamic character in that way. Also, as far as legacy and leaving a trail behind, that's something I've always wanted to do — to leave a trail behind and leave something to look up to.
I know you played the role of Angel, who's also HIV positive, in Rent off-Broadway back in 2011. In what ways did playing Angel prepare you for a role like Blanca?
MR: Angel was when I could finally let people know not with words but actions who I was as a woman. That solidified everything and that's actually how I learned who I was as a woman. From there I just started existing and having someone to look up to and listen to.
Why do you think Blanca's storyline, and even just this world of ball culture, is connecting to so many right now?
MR: No. 1, I think they see that within the ballroom culture, trans women were one of the founders and cultivators of the ballroom scene. And then when it became a scene, it became a place for people to find refuge and comfort. Whether you [were] a drag queen or a trans individual or a drag king, it didn't matter. It was a way for people to push forward and go to a place that was a foundation of family.
That's what I feel like a lot of people are relating to. Not only do they see a figure who's a mother figure, but [they see] the kids who are looking up to her. I know for a fact that I've channeled a lot of my mother in the show.
I think the masses out there are also seeing that it's about family. Yes, it's about the ballroom scene and trans lives, but I also feel like this show transcends the LGBT community alone. It speaks to all demographics and all groups. It just shows we can come together and be nourishing.
What do you feel like needs to happen so Pose isn't the outlier in the TV landscape, and there are more complex stories involving trans individuals and trans actors on TV?
MR: Shows like this and stories like this need to reach a broader audience. The LGBT community needs to reach outside of itself and strive to attract an even more diverse audience. Then that will give more space and opportunities to see us and more people will see that our transness is a part of us — but it's not a part of our talent. People need to see the talent versus just seeing a woman or a man that's attached. For a long time in Hollywood, people were always attaching roles to gender, like if there was a female role then it had to be sexualized.
But when you separate those things and look at talent, that's what's going to determine where you should be placed. Pose should be placed on a path where people don't just look at the LGBT section of it, they need to see the broader spectrum.
Now women of this experience can portray these characters and tell these stories.
Without giving away too much, what you can tell us to expect from Blanca as this season evolves?
MR: You can definitely expect more ball scenes. That's going to be happening. As far as Blanca, you can expect her to go through some more rollercoasters. Even if she goes through those trials, she triumphs and she pushes forward and you'll see her as a mother, a woman and a figure of nurturing.