Shaving and razor brand Billie finally brings actual body hair to a women's shaving campaign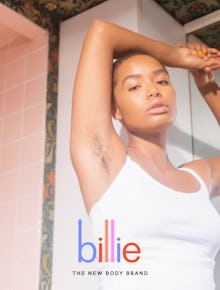 Maybe you hadn't noticed but, before today, most — if not all — shaving ads aimed at women showed them shaving completely hairless skin.
Like, here is an ad for a Gillette Venus razor.
And here is an ad for a Schick Intuition razor.
Razor, shaving and body care brand Billie is now bucking that norm with a campaign called Project Body Hair.
Rather than showing women shaving hairless body parts, Billie's new campaign — which includes both video and images — actually shows the razor removing hair, and acknowledges that women do indeed have body hair. This is revolutionary, unfortunately.
"We did a lot of research into the women's shaving category, and what we found was women were really spoken to in clichés," Georgina Gooley, the co-founder of Billie, said in an interview. "You were being referred to as a goddess. Everything was bright pink and purple and there was a lot of hairless legs flying about in the air. I think women have been made to feel ashamed about their body hair and we really wanted to understand women's relationship with body hair."
There's an additional benefit to these ads, too: They show quite clearly how well these razors work.
"I think one part of this campaign is about normalizing body hair on women," Gooley said. "Then, from a product standpoint, we're showing that our razors remove the hair. You're showing that it's a leg with hair and you see how the product works, so hopefully women who shave see that visualization of the product, and how it gets all the hair out. This is product demonstration in its truest form."
"This is product demonstration in its truest form."
On top of the campaign, Billie is donating its pictures of women with body hair to the stock photo site Unsplash, meaning they can all be used by the public for free. To get even more images out there, the company is also crowdsourcing images of women with body hair and uploading them to its site through the hashtag #ProjectBodyHair.
"This [industry] has been rooted in shaming women for body hair," Gooley said. "We should put all that in the past and we should celebrate the fact that women have hair and reiterate that it's a choice. I like shaving, that's my choice, but I don't want anyone telling me I have to shave because I'm a woman."
You can watch the entire Project Body Hair ad below: