Hype Daily: Roseanne's remorse, last night's BET Awards and more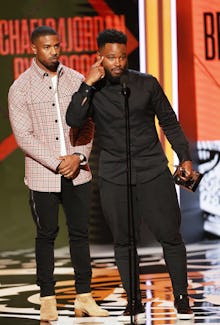 Welcome to Hype Daily, Mic's morning entertainment roundup. Here's everything you need to catch up on in the entertainment world, and what to look forward to today. Want to receive this as a daily email in your inbox? Subscribe here.
Good morning from Hype reporter Anna Swartz
Celebs turned out for Pride this weekend
Cities around the U.S. continued to celebrate LGBTQ pride month this past weekend, including in New York City. New York's annual Pride March drew what was likely 2 million people on Sunday, including a handful of famous faces. Lady Gaga, Heidi Klum, Nico Tortorella and Lea DeLaria were all in attendance, according to Cosmopolitan.
And former Sex and the City star and gubernatorial candidate Cynthia Nixon marched along with her wife, Christine Marinoni. At least two of the Queer Eye boys (Jonathan Van Ness and Bobby Berk) were there. Also, rumor has it that Suri Cruise set up a lemonade stand to sell drinks to parched marchers. If that's true, it's very cute.
The BET Awards happened last night
The BET Awards happened in Los Angeles on Sunday night, honoring musicians, artists and change-makers. Jamie Foxx hosted, Kendrick Lamar took home the most prizes of the night and Beyoncé left with the best female R&B/pop artist award. Black Panther won best movie and director Ryan Coogler took the stage with an emotional acceptance speech.
Black Panther was "trying to capture the experience of being black on this planet," Coogler said. Then he urged his audience to visit African countries, which he said changed his life. "If you can travel to Africa, go," Coogler said. "And if you can't go, teach your children about Patrice Lumumba, Jomo Kenyatta and all the amazing Africans that we attach to still as African-Americans here today."
Another big moment of the night was a performance by rapper Meek Mill, marking his first appearance at an awards show since he was released from prison. (The rapper was serving time for violating probation, a sentence that was controversial to say the least.) Meek Mill used the occasion to debut a new song featuring R&B crooner Miguel, called "Stay Woke," with a performance that included references to mass incarceration and police brutality.
Roseanne is feeling ... remorseful?
Disgraced sitcom star Roseanne Barr says she sorry. In May, Barr's namesake show, Roseanne, was canceled by ABC after Barr had a racist and offensive outburst on Twitter. But less than a month later, the network said it planned to continue the rebooted version of Roseanne, but this time without Roseanne (the new show is tentatively titled The Conners). In an odd first interview since she was booted off her own show, Barr appeared on a podcast hosted by right-wing Rabbi Shmuley Boteach. The podcast was reportedly recorded just days after ABC first announced it was canceling Roseanne.
In the interview, Barr said, "I don't want to run off and blather on with excuses, but I apologize to anyone who thought, or felt offended and who thought that I meant something that I, in fact, did not mean. It was my own ignorance, and there's no excuse for that ignorance." She got emotional as she said, "I definitely feel remorse," but she continued to maintain that she had been "impaired" by Ambien when she sent a tweet that compared former Obama aide Valarie Jarrett to an ape. Sure, Jan.
Put this on your radar: season 2 of Glow.
The second season of the Netflix show Glow premieres on June 29, and it's already got good buzz. If you're not familiar, the show tells a fictionalized account of a real-life, all-women wrestling TV show from the '80s. Alison Brie and Betty Gilpin star as Ruth and Debbie, two former best friends and aspiring actresses who both wind up as wrestlers. Marc Maron is very much himself as Sam, their director. New Yorker television critic Emily Nussbaum called season two of Glow "terrific," so get hyped for that release — and if you need to catch up or get a refresher on season one, now's the time.