Today in Trump's America: As immigrant families remain separated, D.C. debates dinner etiquette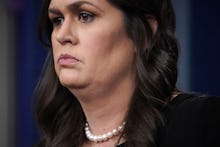 Welcome to Mic's daily read on Donald Trump's America. Want to receive this as a daily email in your inbox? Subscribe here.
Here's what's happening in Trump's America:
• Donald Trump and Melania Trump will host King Abdullah II bin Hussein and Queen Rania Abdullah of Jordan at 2:30 p.m. Eastern.
• The president then flies to Columbia, South Carolina, for a rally in support of Republican Gov. Henry McMaster's re-election.
• House Republicans continue to try to build support for an immigration bill that can please both moderates and hardliners in their caucus.
About last night: As immigrant families remain separated, Washington debates dinner etiquette
With more than 2,000 children separated from their parents as a result of the Trump administration's family-separation policy, a fierce debate is being waged in the nation's capital over whether concerned citizens are allowed to interrupt Trump officials while they're eating dinner.
On Friday night, White House press secretary Sarah Huckabee Sanders was asked to leave a Virginia restaurant by the restaurant's owner because of her role in the Trump administration. The incident came just days after a group of protesters forced Homeland Security Secretary Kirstjen Nielsen to abandon her own dinner plans at an upscale Mexican restaurant in Washington, D.C., and Trump immigration adviser Stephen Miller was called a fascist by a patron at another restaurant.
The president weighed in on the controversy Monday morning, tweeting a broadside at the Virginia restaurant he has almost certainly never set foot in.
"The Red Hen Restaurant should focus more on cleaning its filthy canopies, doors and windows (badly needs a paint job) rather than refusing to serve a fine person like Sarah Huckabee Sanders, Trump wrote. "I always had a rule, if a restaurant is dirty on the outside, it is dirty on the inside!"
Over the weekend, the Washington Post published two separate defenses of Trump officials' right to dine in peace during this crisis, bemoaning the incivility of this kind of direct action.
Former Obama adviser David Axelrod echoed that sentiment in a tweet, writing, "Kind of amazed and appalled by the number of folks on Left who applauded the expulsion of @PressSec and her family from a restaurant. This, in the end, is a triumph for @realDonaldTrump vision of America: Now we're divided by red plates & blue plates! #sad."
Not everyone had the same pearl-clutching reaction, however. On Saturday, liberal firebrand Rep. Maxine Waters (D-Calif.) issued a call to action for people across the country to confront members of the Trump administration wherever they see them.
"If you see anybody from that cabinet in a restaurant, in a department store, at a gasoline station, you get out and you create a crowd and you push back on them and you tell them they're not welcome anymore, anywhere," Waters said at a rally in Los Angeles.
Today in Trump's America: Trump stumps for embattled Republicans as his immigration rhetoric starts to heat back up
On Saturday Trump delivered a fiery speech to the Nevada state GOP convention where his invective against unauthorized immigrants took yet another ugly turn. Now he's set to deliver another campaign speech in South Carolina where incumbent Republican Gov. Henry McMaster is facing an unexpectedly strong primary challenge from an outsider candidate running a Trump-style campaign to "drain the swamp."
The two events embody the tough position that Republican incumbents face ahead of the 2018 midterm elections, as they attempt to position themselves just close enough to Trump to win the support of his base, while also distancing themselves from a Trump policy agenda that the broader electorate sees as immoral.
McMaster was one of the first statewide officials to endorse Trump in 2016, but that hasn't insulated him from the kind of populist base revolt that helped Trump win the nomination in the first place, as his primary opponent, businessman John Warren, tries to paint him as a corrupt political insider.
Meanwhile in Nevada, embattled Republican Sen. Dean Heller spent no more than three minutes on a speech introducing the president whose border separation policy he has publicly rebuked. Then the president took the stage and delivered a lengthy screed vilifying undocumented immigrants, warning that they will "come by the millions" if voters don't support his administration's harsh tactics.
Capitol Hill happenings: House Republicans scramble to build an immigration bill their caucus (and Trump) can agree on
House Republicans spent the weekend trying to hammer out an immigration bill that will satisfy both hardliners and moderates in their caucus, as well as an increasingly fickle president. But the odds of actually cobbling together enough votes for a bill that the president will actually sign remain slim.
On Friday Trump threw a wrench into the negotiations by tweeting, "Republicans should stop wasting their time on Immigration until after we elect more Senators and Congressmen/women in November. Dems are just playing games, have no intention of doing anything to solves this decades old problem. We can pass great legislation after the Red Wave!"
That tweet came just three days after the president told Republicans in a private meeting that he was "100%" behind their efforts to craft a compromise bill.
Republican leadership would likely be content to put off voting on a bill until after the midterm elections, but a revolt from vulnerable moderates, who fear they might lose re-election on the issue, is forcing their hand. Now the leadership will have to work to convince moderates they are still working in earnest toward a compromise, while also reassuring immigration hardliners that they are not going against the president's wishes.
And the rest…
Trump wants to abandon due process for immigrants: On Sunday Trump tweeted that he wanted to effectively end immigrants' constitutional right to due process, writing, "We cannot allow all of these people to invade our Country. When somebody comes in, we must immediately, with no Judges or Court Cases, bring them back from where they came. Our system is a mockery to good immigration policy and Law and Order."
The only adult was named "Mad Dog" — now he's been sidelined: Just six months into the Trump administration, the satirical website the Onion presciently predicted the administration's staffing turmoil with the headline "Only Adult Left In Trump Administration Named 'Mad Dog'" — a reference to Defense Secretary James "Mad Dog" Mattis. Now a new report from NBC News suggests that the defense secretary and four-star general has been sidelined by Trump, who believes Mattis looks down on him.