The academy just invited hundreds of new members. Could this make the Oscars less white?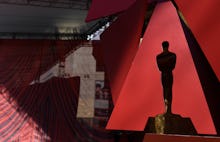 The Academy of Motion Picture Arts and Sciences, the voting body behind the annual Oscars, just announced a new class of invitees to the academy. It's been two years since the organization voted to implement a series of changes intended to make the voters, and the Oscars themselves, less homogeneously white and male — a response meant, at least in part, to address the issues underscored by the #OscarsSoWhite campaign, started by activist April Reign.
Among the changes announced in 2016 was a commitment to double the number of women and non-white members of the academy by the year 2020. So who's in the 2018 class of invited members, and how will the proposed new membership shake up the academy?
According to the academy itself, 928 new members received their invites this year — including a number of well-established industry faces. Hank Azaria, Christine Baranski, Abigail Breslin, Hannibal Buress, Dave Chappelle, Taye Diggs, Omar Epps, Danai Gurira, Tiffany Haddish, Rashida Jones, Mindy Kaling, Jada Pinkett Smith and Daniel Kaluuya are just some of the new invitees on the 2018 list.
It's up to the invitees to accept their membership (or not), but at least one new member announced his status on Twitter on Monday: Actor and comedian Kumail Nanjiani, who, along with his writing partner and wife Emily Gordon, received an invite, said on Twitter that he's now "in The Academy."
According to the academy's own numbers, the new invitees are 49% female and 38% people of color. Their inclusion would bring the total percentage of women in the academy up to 31% and the total number of people of color to 16% — a vast improvement over the 2015 numbers. At that point, women made up 25% of the membership, and people of color made up 8%. Even with the latest improvements, these new figures still serve as a reminder that women and people of color remain clear minorities within the Academy.
The youngest new invitee, Quvenzhané Wallis, is only 14. While the academy didn't release numbers about the average age of its overall membership, it may likely be taking steps to diversify that metric as well. According to a 2013 survey from the Los Angeles Times, the average age of academy voters was, at that point, 63. With some six months left to go before the next Oscars voting period, it remains to be seen how much the new membership will affect next year's Oscar nominees and winners.