Pelosi and Schumer weigh in on debate over "civility," drawing deeper divisions in Democratic Party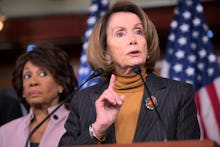 On Monday, Washington's debate over the "civility" of protesting against members of the Trump administration by disrupting their dinners or movie outings continued, even as thousands of immigrant children remain separated from their parents.
On Saturday, Rep. Maxine Waters (D-Calif.) responded to the news that White House press secretary Sarah Huckabee Sanders had been asked to leave a restaurant over her role in the Trump administration, by calling on Americans to "push back" against Trump administration officials and "tell them they're not welcome anymore, anywhere."
Now House Speaker Nancy Pelosi has weighed in, saying that "Trump's daily lack of civility has provoked responses that are predictable but unacceptable."
That response led to backlash from progressives and other activists who have used their voices to speak out against Trump administration policies.
"If you run on unity from sea to seas rather than stopping the evil of the Republican Party, you'll leave Congress in their hands," one commenter replied.
At the same time, House Minority Leader Chuck Schumer echoed Pelosi's call for civility in the face of morally objectionable policy making.
"No one should call for the harassment of political opponents," Schumer said in a speech on the Senate floor. "That's not right, that's not American."
The incident between Sanders and the restaurant owner came just days after Homeland Security Secretary Kirstjen Nielsen was forced to leave a D.C. Mexican restaurant following loud protests over her role in Trump's family separation policy.
Since then, a debate has waged among members of the D.C. media and political establishment over the appropriateness of such protests.
Many have pointed out the irony in calling on progressive protesters to take a more civil approach at a time with the president of the United States has used his position of power to try and incite violence against protesters. The Washington Post's Jenna Johnson tweeted out a list of some of the not-so veiled-threats that Trump has made from the podium over the years.
Irony did not stop Sanders from bemoaning the lack of civil discourse during Monday's White House press briefing.
"Healthy debate on ideas and political philosophy is important," Sanders said in a prepared statement at the beginning of the briefing. "But the calls for harassment and push for any Trump supporter to avoid the public is unacceptable."
Waters's comments never explicitly called for harassing Trump supporters in general but instead encouraged people to protest members of the Trump administration.
Trump shows no signs of changing his policy of detaining migrant families at the border, which means that protests like the ones seen in recent days could continue, and the debate over "civility" could drag on along with them.
Correction: June 25, 2018: