Hype Daily: Hair ruffling, '90s nostalgia, 'The Hate U Give' and more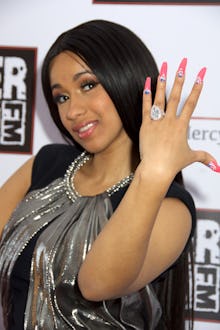 Welcome to Hype Daily, Mic's morning entertainment roundup. Here's everything you need to catch up on in the entertainment world, and what to look forward to today. Want to receive this as a daily email in your inbox? Subscribe here.
Good morning from Hype reporter Anna Swartz.
Trump is still talking about Jimmy Fallon
The back-and-forth between President Donald Trump and late-night host Jimmy Fallon is still going on, days after Fallon said he had regrets about his now-infamous 2016 interview with Trump, during which Fallon cheerfully ruffled Trump's hair. "I did not do it to 'normalize' him or to say I believe in his political beliefs or any of that stuff," Fallon told the Hollywood Reporter earlier this month.
Trump responded to Fallon's interview by tweeting, of course, saying on Sunday, "@jimmyfallon is now whimpering to all that he did the famous 'hair show' with me (where he seriously messed up my hair), & that he would have now done it differently because it is said to have 'humanized' me-he is taking heat. He called & said 'monster ratings.' Be a man Jimmy!"
Then, on Sunday, Fallon tweeted that, "in honor" of the president's tweet about him, he would be donating to an immigration law nonprofit in Trump's name. Both of them kept going on about each other on Monday night — Trump at a rally, where he again accused Fallon of messing up his hair, and Fallon on his show, where he pointed out that the president should have more important things to do than tweet at him. "Melania, if you're watching, I don't think your anti-bullying campaign is working," Fallon said. Brace yourself for more Trump tweets, Jimmy.
It turns out Cardi B and Offset have been married for a while?
Yup, you read that right. After Offset confused everyone by thanking his "wife" while accepting an award at Sunday night's BET Awards, rapper Cardi B confirmed in a tweet on Monday that the two secretly got married in 2017. "There are so many moments that I share with the world and then there are moments that I want to keep for myself," Cardi wrote in the screenshot that she tweeted out.
"Getting married was one of those moments ... one morning in September we woke up and decided to get married. We found someone to marry us, and she did, just the two of us and my cousin. I said I do, with no dress and no make up and no ring!"
That means that the celeb power couple were already married when Offset publicly proposed to Cardi B in October. It's all very cute, and celebrities (like everyone else) should be able to get married however they want. Mazel tov to the lovebirds.
The first trailer for The Hate U Give is here
The first official trailer for The Hate U Give, the highly anticipated film based on a young adult novel by Angie Thomas, is finally here. The film, which will be released Oct. 19, stars Amandla Stenberg as Starr, a black teenager who leaves her majority-black neighborhood every day to attend a wealthy, mostly white, private school.
After she witnesses her childhood friend, Khalil, played by Algee Smith, die after being shot by a police officer, Starr has to grapple with how and when to speak out about racism in the different worlds she inhabits. The film also stars Regina Hall, Issa Rae and Common. K.J. Apa plays Starr's boyfriend, Chris — Apa replaced actor Kian Lawley, who was fired from the film in April after videos surfaced of Lawley using racist slurs.
The author of the book that inspired the film had an emotional reaction to the trailer's release. On Sunday night, Thomas tweeted, "I'm a black girl from Mississippi who sometimes didn't have lights. Sometimes my family was on welfare. I'm straight from the hood, no ifs, ands, or buts about it. The trailer just dropped for a movie based on a book I wrote. Nothing is impossible."
Kenan and Kel are reuniting ... sort of
Don't touch that dial — the best comedy duo of your childhood is reuniting. On Monday, Entertainment Weekly reported that Kenan Thompson and Kel Mitchell, who played the eponymous characters in the Nickelodeon show Kenan & Kel from 1996 to 2000, will reunite on Nickelodeon as contestants competing against each other on the rebooted game show Double Dare.
"I am so excited to be playing on Double Dare and for whole new generation of kids to experience this iconic game show," Mitchell told EW. "This episode will be double special because Kenan and I will be playing against each other and we are both huge fans of Double Dare."
OK, so it's not exactly a proper Kenan & Kel reunion, but it will probably be fun and nostalgia-inducing to see the two comedians in the same place again. Thompson has been busy as a longtime cast member on Saturday Night Live and Mitchell has been busy disputing rumors of his death.
Put this on your radar: W. Kamau Bell
Comedian and podcast host W. Kamau Bell has a new standup special that dropped on Netflix on Tuesday. The special, titled Private School Negro, focuses on race in the Trump era and contemporary "wokeness." Check out a trailer here.