What Melania Trump wore her 75th week as first lady — when she reappeared, sans controversy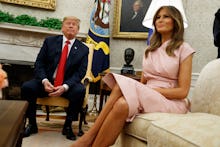 Well, at least we can say things have calmed down since last week. After that "I really don't care" jacket debacle, Melania Trump is back to dressing like Melania Trump, with knee-length dresses and skirts that don't involve insensitive statements.
Here is what she wore this week:
Sunday, June 24: A Calvin Klein skirt for a conference
Trump delivered a rare speech at the national conference of Students Against Destructive Decisions on Sunday, to which she wore a sharp white button-down and a Calvin Klein skirt that Ivanka Trump has actually worn previously.
What are the chances?
Monday, June 25: A pink leather dress for meeting with the king and queen of Jordan
The next day, for a White House visit from the king and queen of Jordan, Trump wore an edgy Proenza Schouler pink leather dress with wrap detailing.
Queen Rania wore a loose blouse and wide-leg trousers by Adeam in a similar blush tone.
Thursday, June 28: A black and white outfit for an Arizona trip
And finally on Thursday, Trump flew to Arizona, where she would visit another few immigration facilities. She wore black flats, a black shirt and white trousers from La Ligne. In the facilities, she changed into sneakers.
No jacket, thank goodness.
You can read previous recaps of what Melania Trump wore here.