Mic Daily: Democrat introduces bill to abolish ICE, the academy invites new members and more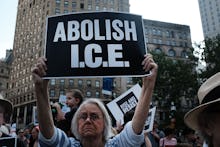 Welcome to Mic Daily: Mic's short, smart email newsletter that cuts through the noise and lands in your inbox every weekday. We carefully curate each edition to send you a cross section of our most impactful, vital, touching stories of the day.
The progressive movement to abolish immigration and customs enforcement has officially reached Congress.
On Monday, Wisconsin Democratic Rep. Mark Pocan announced he intends to introduce a bill in Congress that would officially abolish U.S. Immigration and Customs Enforcement.
A group of lawyers has filed petitions demanding the release of 20 transgender women asylum seekers, all of whom are being held by ICE despite credible evidence that their gender identity puts them at serious risk of persecution in their home countries.
To draw attention to the statistic of the average lifespan of a black transgender woman, trans activist Ashlee Marie Preston had a special birthday cake made when she turned 34. On it were the photographs of 77 black trans women who died before the age of 35.
In an essay for Mic, Preston wrote about the lack of intersectionality in LGBTQ activist communities, which tend to focus entirely on the "G" in "LGBTQ," casting trans women of color by the wayside.
The Academy of Motion Picture Arts and Sciences, the voting body behind the annual Oscars, just announced a new class of invitees. It's been two years since the organization voted to implement a series of changes intended to make the voters, and the Oscars themselves, less homogeneously white and male — a response meant, at least in part, to address the issues underscored by the #OscarsSoWhite campaign, started by activist April Reign.