Insurgent progressive candidates Cynthia Nixon and Alexandria Ocasio-Cortez rally together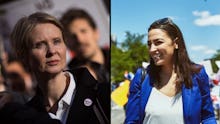 Two high-profile female progressive primary candidates challenging powerful male incumbents have decided to team up ahead of Tuesday's congressional primary in New York.
On Monday, New York Democratic gubernatorial candidate Cynthia Nixon and Democratic congressional candidate Alexandria Ocasio-Cortez endorsed each other's election bids against their respective opponents.
"I am proud to endorse Alexandria Ocasio-Cortez for Congress," said Nixon in a statement announcing the endorsement. "She represents the future of the Democratic Party. Alexandria and I are joining together to take on the old boys' club, rejecting corporate money, and run people-powered campaigns that envision a progressive New York that serves the many, not just the few who can afford to buy influence."
Nixon is in the midst of a widely covered primary challenge to New York's incumbent Democratic Gov. Andrew Cuomo, while Ocasio-Cortez is challenging one of the top-ranking Democrats in the House, 10-term incumbent Rep. Joe Crowley.
The pair held a joint get-out-the-vote campaign Monday night in New York City's Jackson Heights neighborhood, which is part of the district Ocasio-Cortez's running for. New York splits its state and congressional primaries, meaning Nixon's primary will not be held until August.
The pair is part of a new phenomenon in New York's typically machine-like Democratic political system, as a surprising number of viable challengers have emerged to incumbent Democrats.
In New York's 12th Congressional District Rep. Carolyn Maloney faces an unexpected primary challenge by a young progressive hotel businessman and college professor, Suraj Patel. Meanwhile, in New York's 16th Congressional District, three different Democratic challengers are all competing for a chance to topple incumbent Rep. Eliot Engel.
And in New York's 9th Congressional District, Rep. Yvette Clarke is seeing a surprisingly strong challenge from progressive candidate Adem Bunkeddeko.
On paper there's little reason to believe any of these candidates will succeed in besting their long-serving Democratic opponents. Yet support for insurgent candidates from New York institutions has reached surprising levels.
The editorial board of the New York Times, endorsed Bunkeddeko over Clarke in the race for New York's 9th. The paper also wrote a scathing critique of Crowley for failing to attend a debate against Ocasio-Cortez.
Meanwhile, Democrats across the country have shown a surprising level of support for New York's challengers — Ocasio-Cortez in particular. Former DNC chair and Vermont Gov. Howard Dean praised Ocasio-Cortez on Twitter, saying "She may not win, but she should have a great future in politics."
And Rep. Ro Khanna (D-Calif.) issued a coendorsement of both his colleague Crowley and Ocasio-Cortez.
This outpouring of support for New York's long-shot candidates raises questions about how much the Democratic Party is committed to seeing change in its leadership and how much power incumbents are willing to give up in order to make that a reality.
It also points to a different future of contested elections in states like New York, where one party maintains a stronghold on power, as progressives appear more and more willing to challenge incumbents in order to shift the politics of their state.
Tuesday's primary results will offer the first glimpse at what kind of results this new kind of politics can yield. But even if none of these challengers are successful, the conventional wisdom about challenging incumbents has already been flipped on its head.