GE CEO announces "sweeping, dramatic change" to the company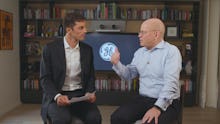 Editor's note: This is the first installment of Mic's CEO Conversations, in which Mic CEO Chris Altchek interviews GE CEO John Flannery. Additionally, GE is a Mic advertiser.
General Electric CEO John Flannery on Tuesday announced a series of significant changes to the company, including the sale of two major businesses.
"We're going to move our health care business and our Baker Hughes GE business outside the core of the company," Flannery told Mic in an exclusive video interview as part of Mic's CEO Conversations series.
Flannery, who previously led a turnaround of GE Healthcare and has been with the company for over 30 years, said, "We're changing almost everything."
The company's new "core" businesses will consist of aviation, power and renewable energy. In addition, the company will shed many of its corporate functions and cut over $500 million of costs from its centralized corporate team. That change, according to Flannery, will give autonomy to GE's business units, instead of operating through its current centralized structure.
The changes mark a major cultural shift for a company that helped define modern corporate management in America.
The new GE will be significantly scaled back from the company Flannery took over 10 months ago, when he become the 11th CEO of the company founded by Thomas Edison.
Investors have been agitating for a major strategy shift in recent months, as GE's stock has continued to slide, down over 50% in the past year. Flannery told Mic he is keenly aware of that pressure and recognized that some observers will be disappointed that he is not announcing a full breakup of the company.
"The question we asked ourselves is, 'How do we get the businesses to flourish so we can create the most shareholder value?'" Flannery said. "We didn't start out by saying the purpose of this is to break up the company. The purpose of this is to make the businesses incredible, put them in the right environments, put them in the right financial condition so they can blossom."
Flannery also announced he is replacing the company's lead director Jack Brennan with Larry Culp, former CEO of Danaher, and is also contributing $3 billion to the beleaguered GE Capital.
With all of those significant changes, Flannery told Mic that he believes he's doing what's right for GE's shareholders.
"I think a couple of things for investors, it's a much stronger consolidated picture right now," Flannery said. "So again, a big part of this is raising capital through announced dispositions. We're going to sell 20% of our health care as part of this. We're going to transfer some debt and liabilities to health care. The second thing I'd say is, they can own some of these assets directly, so the core GE is going to be a very strong business."
While GE's future may seem uncertain, Flannery said he's excited about the company's new path and challenged viewers to look upon it anew.
"Take a fresh look at GE," Flannery said. "You know, it's an amazing company. It's gone through a period of incredible adversity. Plenty of people have written it off and said, 'Hey this is not an interesting company.' It's an amazing company."
For more, watch Mic's interview with Flannery above.