Big primaries in key states will help determine the fate of 2018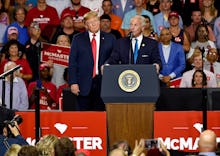 Welcome to Mic's daily read on Donald Trump's America. Want to receive this as a daily email in your inbox? Subscribe here.
Here's what's happening in Trump's America:
• Primary elections are taking place in New York, Maryland, South Carolina, Mississippi, Oklahoma and Utah
• Trump will meet with the Associated Builders and Contractors National Executive Committee at 11:30 a.m. Eastern
• At noon Eastern, the president has lunch with members of Congress before meeting with West Virginia Gov. Jim Justice, who switched his party allegiance from Democratic to Republican in 2017 to support Trump
• At 3:30 p.m. Eastern, the president will present the medal of honor.
About last night: Welcome back to the sideshow
On Monday night, Trump held a South Carolina campaign rally supporting Republican candidates in Tuesday's primary, where he reverted to some of his more trivial and media-obsessed habits of 2016.
Despite the ongoing migrant family separation crisis and the fact that the rally was intended to bolster Republican candidates in 2018, Trump spent the bulk of his rally talking about his victory in the 2016 election, his feuds with late-night comedians and his poll numbers.
"So Jimmy Fallon apologized — he apologized for humanizing me, the poor guy," Trump said referring to Fallon's recent apology for a softball interview during the 2016 campaign. "So I said, Jimmy, you called me up after the show and you said thank you for the incredible — you called them monster ratings. They were very big ratings. Thank you, Jimmy. I said don't hurt yourself by apologizing."
Trump also reserved some fodder for Late Show host Stephen Colbert and Jimmy Kimmel Live! host Jimmy Kimmel before touting a positive review from filmmaker David Lynch.
With Trump set to hold even more rallies in North Dakota and Wisconsin later this week, the president seems to be slipping into his familiar style of ad hoc campaigning that was on full display in 2016. The question is will that kind of self-aggrandizement actually help the down-ballot candidates he's supposed to be stumping for?
Today in Trump's America: Big primaries in key states will help determine the fate of 2018
Voters go to the polls Tuesday to vote in a host of high-profile primary races that could help determine the outcome of 2018.
In Maryland, Democrats will choose from a crowded field of eight candidates for governor, which includes the former head of the NAACP, a former aide to
Michelle Obama and many more. Pulling ahead of the pack in recent polls are Prince George's County Executive Rushern Baker and former NAACP chair Ben Jealous. Jealous is running as a zealous progressive with support from the Bernie Sanders wing of the Democratic Party, while Baker is running on his record of bringing jobs and businesses to Prince George's County. Both are eager to take on the Democratic state's popular Republican Gov. Larry Hogan in the fall.
In South Carolina, the Republican gubernatorial primary will test this proposition: Can you out-Trump Trump? Incumbent Republican governor and key Trump ally Henry McMaster will face off against businessman John Warren, a populist insurgent running against McMaster's scandal-plagued administration and vowing to "drain the swamp." McMaster's team is hoping his rally with Trump last night will be enough to secure the GOP base for its candidate and avoid a humiliating primary defeat.
In New York's congressional primaries — the state will not hold its state primaries until September — a wave of insurgent progressive candidates have cropped up to challenge incumbent Democrats amid the wave of left activism. Among the most high-profile races to watch is Alexandria Ocasio-Cortez, who is challenging top-ranking House Democrat Rep. Joe Crowley for his seat in Congress.
Capitol Hill happenings: House prepares for Wednesday immigration vote with an uncertain outcome
House Republicans are barreling ahead with their plans to vote on an immigration bill despite not locking in the necessary support to get the bill onto Trump's desk. In a Monday interview with Fox News, House Freedom Caucus Chairman Mark Meadows (R-N.C.), who has been a key part of negotiations over the bill, said he believes it would fail if brought to the floor today.
House Speaker Paul Ryan (R-Wis.) was initially forced into this position a vote on the legislation after a revolt from moderate members of his caucus. They threatened to use a discharge petition to pass a more moderate bill with Democrats.
Since then Ryan has been engaged in high-stakes negotiations between moderates and conservatives in the Republican Party, as Trump sends mixed signals about whether or not he wants the House to vote on anything at all.
Now some House Republicans are predicting the bill will fail, and they will have to vote on a much narrower bill that deals specifically with the issue of family separation before the July recess next week. It is still unclear if the president would sign it.
And the rest…
Protesters march outside Stephen Miller's apartment: Unbowed by calls for "civility" from D.C.'s political class, protesters descended on Stephen Miller's home Monday night to protest his role in the administration's family separation policy.
Activists say separated children are still flying commercial: Despite claims from United Airlines that the company asked the Trump administration not to fly separated children on its planes, several separated migrant children appear to have been flown into New York's LaGuardia Airport on a United flight Monday night, according to activists on the ground.