'Pose' offers viewers more than the trauma porn about trans and queer people that we're used to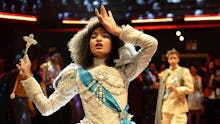 The same night the new FX series Pose premiered, the Twitter handle for the Condé Nast-owned queer publication Them spoke of an intimate scene between Angel (Indya Moore), a transgender sex worker, and Stan Bowes (Evan Peters), a cisgender white businessman in bed, and the fear that the scene induced.
Many of us, myself included, expressed similar fears and subsequent relief that nothing happened to Angel at the hands of Stan. At a time in which trans women — notably nonwhite ones — are being murdered at frighteningly high rates, it was not unreasonable to assume the romantic scene might give way to something more menacing. If the hate crimes are this high now, one can only imagine how even more dangerous Angel's predicament was in 1987, the year in which the New York City-based show is set.
Yet we saw something much different than that. We were treated to a visual and dialogue that might register as novel in mass media's overall depictions of trans women, but not so foreign to trans women themselves: a subtle sweetness and romance between a trans woman and cisgender man. What we saw was a shared honesty between two consenting adults with a mutual attraction. We saw a scenario where danger was not looming.
As Janet Mock, who serves as writer-producer-director on the show, explained on Twitter when the show debuted, this was by design. Trans women, like members of other marginalized communities, may lead difficult lives, but they're rarely depicted in mainstream media outside the context of that struggle.
What I appreciate so much about Pose — beyond its entertainment value — is it provides audiences with images of queerness and the lives of trans people that are not solely pathological.
Angelica Ross, who plays Candy Abundance — the fiery member of the House of Abundance — recently told Cheddar, "What I love about the show is most people are used to hearing about the stories and trauma of trans people through a very sort of trauma-porn lens. ... A lot of times, trans communities are looked at as either pathetic, like, 'Oh, you poor thing,' or deceptive."
Candy is not without her issues. As confident as she is, as we see in the show's fourth episode, the ballroom scene can trigger insecurities — specifically about her body and how it relates to certain categories like the "Luscious Femme Body Queen." The pursuit of a larger butt and bigger breasts leads her to seek illegal injections in order to feel curvier. But even as Candy deals with body issues, she's not depicted in a way that calls for pity.
No matter what happens with the rest of the show, which is currently halfway through its inaugural season, it has already been seismic in its changes to the way the lives of trans people are explored on-screen. And the same can be said of its vision of queer people. One other aspect of the show that I enjoyed was watching Mj Rodriguez's Blanca — who serves as house mother for the House of Evangelista — offer a bit of a sex ed to Ryan Jamaal Swain's Damon Richards about Ricky, the boy he's currently dating, in episode three.
Yes, everyone knows about sex in terms of procreation, but if you're a queer person trying to learn about your body — the importance of using a condom or understanding different sexual positions and which satisfy you sexually — there's not much for you in most sex ed courses, the paltry few available, or in mainstream media. Most of us learn this on our own with little guidance, outside of perhaps other folks who are part of our community. But you don't get that often on television either, particularly not with the level of delicacy and frankness seen on Pose.
Of course, the show is set in the 1980s, so it doesn't pretend that everything is swell with being trans or queer. We see the impact of HIV/AIDS — including with protagonist Blanca — and the deaths of so many gay men and trans people as a result of the crisis. This resonates still, not least of all, because it remains a crisis that's impacting poor black and Hispanic men in New York City and nationwide.
Still, while the struggles are not shied away from, there is a joyous spirit that's central to the show. It is the spirit I see in the queer and trans people I interact with or have interacted with over the course of my life. It is the spirit I presently have and continue to fight to maintain. We may not have it the easiest, but we do not wallow, nor do we push for the pity of the masses. We take what has been given to us — or, in many cases, not given to us — and forge ahead anyway.
In doing so, we lead complicated, but nonetheless, full lives. Unfortunately, that is not often reflected in the images we see on the big and small screens. I usually call it "pathology porn," but no matter what you call it ("trauma porn" is just as cute), it's a linear depiction of multifaceted communities that have long deserved more.
When I was a child, I was terrified, if not disturbed, by the images of queer and trans people I saw. We were comic fodder. We were dying. We were deviants. We were not worthy of love. We were not experiencing sex in terms of pleasure, but through varying degrees of danger. We were not whole.
It's a shame that this didn't come sooner, but thankfully, with Pose, we've taken a huge step forward in making sure we have more fluid stories about trans and queer people. We should never look back.