Reality Winner, first leaker prosecuted by Trump administration, pleads guilty to espionage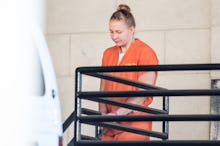 Reality Winner, the first whistleblower to be prosecuted as part of the Trump administration's crackdown on leakers, pleaded guilty Tuesday to one count of espionage in exchange for a 63-month prison sentence and three years of supervised release, according to multiple reports.
"All of my actions I did willfully, meaning I did so of my own free will," the former National Security Agency contractor told a federal court in Georgia on Tuesday, according to the New York Times.
Winner, 26, was arrested in 2017 after she was alleged to have leaked a classified NSA document describing Russian cyberattacks on the United States ahead of the 2016 election.
"Releasing classified material without authorization threatens our nation's security and undermines public faith in government," Deputy Attorney General Rod Rosenstein said in a statement at the time. "People who are trusted with classified information and pledge to protect it must be held accountable when they violate that obligation."
In June 2017, the Department of Justice alleged Winner had provided the Intercept with a top-secret report outlining a Kremlin attack on at least one American voter registration-related software supplier as well as spear-phishing emails it sent to over 100 U.S. election officials in the run-up to the November 2016 election. According to the Intercept, which cited Winner anonymously, the May 2017 report suggested "Russian hacking may have penetrated further into U.S. voting systems than was previously understood."
U.S. intelligence concluded in January 2017 that Russia interfered with the 2016 presidential election in support of President Donald Trump.
Russian President Vladimir Putin has long denied meddling in foreign elections. However, special counsel Robert Mueller has indicted a number of Russian officials and entities as part of his inquiry into possible collusion between the Kremlin and the Trump campaign, as well as potential obstruction of justice on the part of the president.
Trump has been preoccupied with leakers both in the intelligence community and in the White House, the latter of whom he has accused of helping the media make him look "as bad as possible."
"Leakers are traitors and cowards, and we will find out who they are!" Trump tweeted in May.
Winner was accused of "removing classified material from a government facility and mailing it to a news outlet, in violation of 18 U.S.C. Section 793(e)." The parent company of the Intercept — which reported on the leaked document June 5, 2017 — contributed to Winner's legal defense fund but faced criticism for failing to protect its anonymous source. In an internal review in July, the investigative publication found it "fell short of the standards to which we hold ourselves for minimizing the risks of source exposure when handling anonymously provided materials."
Trump's crackdown on leakers has continued since Winner was first charged. Earlier in June, the DOJ arrested James A. Wolfe, the former director of security for the Senate Intelligence Committee, on charges of lying to investigators about his contacts with reporters following the government's seizure of phone and email records from a New York Times journalist. The incident appeared to mark the first time the Trump administration sought a reporter's records, according to the Times, which characterized the seizure as a threat to freedom of the press.
Billie Winner-Davis, Winner's mother, told the Times the administration appeared to be "coming down on her so tough" to "to make an example out of" her.
"I can only think that it's because she was the very first one," Winner-Davis said.
Winner, who has been jailed since her arrest, could have faced up to 10 years in prison had she not accepted the guilty plea Tuesday. According to the Intercept, her 63-month sentence could be the longest prison term imposed by a federal over a media leak.
In a statement, Betsy Reed — editor-in-chief of the Intercept — blasted Winner's prosecution and said her disclosure "served the public interest by alerting Americans to vulnerabilities in our voting system."
"She deserves better from her country," Reed said, "as do all journalistic sources who put themselves at risk for the greater good."