Progressive challenger Alexandria Ocasio-Cortez bests top-ranking Democrat in stunning primary upset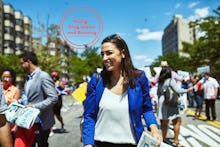 Progressive millennial candidate Alexandria Ocasio-Cortez beat New York Democratic incumbent Rep. Joe Crowley, a top ranking Democrat in the House of Representatives, in a primary Tuesday night.
The Associated Press called the race at 9:52 with Ocasio-Cortez leading by 15 percentage points with more than 85% percent of precincts reporting.
Crowley, who is chairman of the House Democratic Caucus, was widely believed to have had ambitions to become the next speaker of the House, should Democrats reclaim control of Congress.
Yet Ocasio-Cortez's campaign managed to achieve high levels of grassroots support, raising more small-dollar donations than anyone currently in the New York City delegation, both in total and as a percentage of her overall fundraising.
In one of her first national profiles, Ocasio-Cortez told Mic, "We're a district that covers the Bronx and Queens and Rikers Island. Our median income is around $47,000 a year, we're about 70% people of color. We've had the same representation for a generation."
Running in one of America's most diverse neighborhoods, Ocasio-Cortez lead a boldly progressive campaign, touting her support for "Medicare for all" and abolishing Immigration and Customs Enforcement. Her campaign has claimed credit for pushing Crowley to become the only member of Congressional Democratic leadership to endorse single-payer health care.
Ocasio-Cortez also managed to receive the backing of several major figures in progressive Democratic politics, including fellow New York progressive challenger Cynthia Nixon and California Rep. Ro Khanna, who issued a "co-endorsement" to both Crowley and Ocasio-Cortez.
Ocasio-Cortez will face Republican candidate Anthony Pappas in a race that is widely expected to remain in Democratic hands.