Wilmer Valderrama shares his immigrant story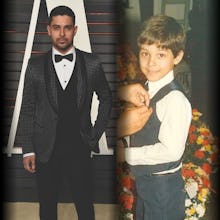 Since President Donald Trump's "zero tolerance" immigration policy took effect in April, over 2,000 children arriving at the border have been separated from their parents and placed in shelters run by the Department of Health and Human Services.
The policy has shed a brighter light on immigration reform and led to many people — including actor and producer Wilmer Valderrama — sharing their own immigration stories.
In an exclusive video op-ed with Mic, Valderrama, who came to the Unites States in the early 90s with his parents, recounts having to walk miles with his mother to and from the grocery store because they didn't have a car.
"I saw my father being really stressed and I said, 'Dad, don't worry, 'cause we're in America and anything can happen out here,'" Valderrama said. "'I'm going to be this actor and this producer, and I'm going to open restaurants and I'm going to be doing these different things.' And my dad looked at me and he said, 'Mijo, you can do that.'"
The topic of immigration is still divisive, but Valderrama said the first step to understanding is listening.
"Invite their stories into your home. Invite their thoughts, their heritage, their roots. Learn about them and learn from them," he said. "Make them feel welcome, make them feel like this is also their home, because it is and it has been."
Watch the full video above.