Dyke marches show that pride is about more than rainbows, parades and white gay men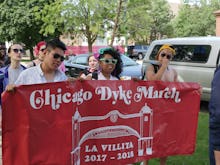 CHICAGO — On Saturday, hundreds of queer people, transgender folks and their allies gathered in Chicago's Little Village to celebrate the 22nd annual Dyke March. With a mix of flags, signs and chants, marchers showed why LGBTQ Pride Month means much more than just rainbows and grand parades.
The usage of the term "dyke" shows how queer women and femmes have been reclaiming a controversial identity. Dyke March, held in multiple cities in the United States and Canada, centers the voices and identities of queer women and femmes in its mission and makes community engagement a focal point of each event. The march is typically held the same weekend as each respective city's Pride parade, and has become a much-needed alternative to what some participants called a commercialization of the queer community and its celebrations.
"I have a lot of trouble participating in corporate Pride," Zev Alexander, a marcher who previously attended Philadelphia's Dyke March, said in an interview. "The corporate sponsorship gets under my skin. So it's nice just knowing that there's a space to celebrate where I won't see that and I'll be with my people. This is an alive and well part of the queer community."
In contrast to the traditional parade, Dyke March does not accept corporate sponsorship and is lead by a collective of less than a dozen core members. The organizers keep the team small to remain independent and able to serve the needs of their communities first. Alexis Martinez, the march's main coordinator, says that in her eight years as part of the event she's worked to ensure marginalized narratives continue to be centered.
"The primary aspect is that we go to communities of color," Martinez said in an interview. "We go two to three years at a time, and I wanna see us be successful in becoming part of the community. We have a lot of queer people in black, brown and Asian neighborhoods, but everything that happens around queer life in Chicago seems to be focused on the North Side."
For example, each year the Pride parade is held in Boystown, Chicago's gay neighborhood located in the northern part of the city. The area is predominantly white, and the neighborhood has long been criticized for alienating people of color in favor of white, cisgender, gay men.
To accommodate people across the city, Dyke March rotates locations every few years. Former marches were held on the South Side, which is predominantly black, and in Argyle, one of Chicago's predominantly Asian neighborhoods. This year's venue, Little Village, is home to many Mexican American residents. In each location, Martinez says the organization tries to take time to truly integrate itself into the community to foster inclusivity across all lines.
"I've never been to a Pride in my life," local transgender actress Alexia Jasmene said. "The white male gaze is predominant in Pride as well as in corporate overlords that want us to think it's all fine when it's not. Where as this is a community-based, organized thing and not a corporate event. So of course, it's different."
Yana Atim, who came to the march with Jasmene, said she marches for similar reasons.
"I've been to Pride before, but I'm now finalizing myself as a non-binary person who is bisexual," they said. "And [Dyke March] is about female love and warmth rather than 'glam and it's a party.'"
Jasmene and Atim are aren't alone in their critique of mainstream Pride celebrations for centering white cis-male voices. In fact, it's a common trend in big LGBTQ events that privileged voices tend to outweigh more marginalized perspectives.
The first Pride parade in 1970 was a response to police brutality against queer and trans people during the Stonewall riots in New York City in 1969. And it was possible because of the work of Marsha P. Johnson and Sylvia Rivera, the trans women of color who were at the forefront of the movement. The resulting parade, although inherently political in nature, focused on celebrating queer and transgender identities at a time when both communities were heavily criminalized.
Today though, mainstream Pride is seen as a more commercial event divorced from its beginnings. The most obvious examples are the police-sponsored floats included in many Pride parades. In 2016, Black Lives Matter activists halted Toronto's Pride parade, demanding the organization confront racism within the LGBTQ community and ban police floats at future events. The protest sparked a debate within the queer community that's still ongoing. It also highlights why some seek alternatives to mainstream Pride events.
"For me, Dyke March is the only Pride parade I go to because it focuses more on intersectionality and inclusivity," A Class, a gender nonconforming attendee, said. "I just feel much more seen and validated here. Mainstream Pride is a little too capitalist for me. And I feel like the majority of the people here align with not conforming to the gender that they were assigned and it makes me feel much more at home."
The end of the march kicked off a rally and celebration at Piotrowski Park located within the neighborhood. Venders sold food and music boomed from the stage's loud speakers as members of the neighborhood danced with marchers. This mixture of protest and joy is exactly what Martinez hopes to continue in Dyke March events during and after Pride month. Eventually, she envisions the organization holding year-round events in local queer communities of color. And for each one, Martinez knows the message will always be the same.
"[Our mission] is to bring visibility to queer people in communities of color," she said. "To show your sons and daughters and mothers and fathers that we're in all parts of your life. You can't deny us."