Terry Crews gives powerful statement about why he didn't retaliate after his alleged sexual assault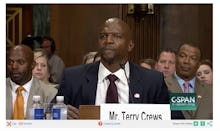 Actor Terry Crews made a powerful statement on behalf of sexual assault survivors and the #MeToo movement Tuesday during a Senate Judiciary Committee hearing on the Sexual Assault Survivors' Bill of Rights.
Crews, who in October revealed in a series of tweets he had been assaulted by a "high-level Hollywood executive," told the committee why he didn't physically retaliate against his alleged aggressor, Hollywood agent Adam Venit: He thought an act of violence would endanger his reputation, career or even his life.
"As a black man in America, you only have a few shots at success," Crews said. "You only have a few chances to make yourself a viable member of a community. I'm from Flint, Michigan. I have seen many, many young black men who were provoked into violence, and they were in prison or they were killed. And they're not here."
Crews credited his wife, Rebecca King-Crews, for preparing him to react calmly if he faced a difficult moment like the night he was sexually assaulted.
"She said, 'If you ever get goaded, if you ever get prodded, if you ever have anyone try to push you into any kind of situation, don't do it. Don't be violent,'" Crews said. "She trained me. I'll be honest with you. It was the strength of my wife who trained me and told me, 'If this situation happens, let's leave.' And the training worked. Because I did not go into my first reaction. I grabbed her hand, and we left."
Crews said he went to his agency the next day to complain about his mistreatment and demanded his aggressor be held accountable. Instead of getting the support he needed, he said nothing was done.
"I was told, 'We're going to do everything in our power,'" Crews said. "We are going to handle this, Terry. You're right. It is unacceptable.' And then they disappeared. Nothing happened."
TMZ reported in December that Crews had filed a lawsuit against Venit for allegedly groping him. During the Senate hearing Tuesday, Crews revealed he would no longer be in future Expendables franchise films because he refused a producer's request to drop the case.
"I've done three movies called The Expendables with Sylvester Stallone," Crews said. "The producer of that film called my manager and asked him to drop my case in order for me to be in the fourth installment of the movie, and if I didn't there would be trouble."
Activist Amanda Nguyen, who drafted the Sexual Assault Survivors' Bill of Rights, also spoke at Tuesday's hearing. The bill, which Congress passed in September 2016, establishes several protections for victims of sexual assault, including the right to "fair and efficient" rape kit procedures.