How private prisons are benefiting from Trump's hardline immigration policies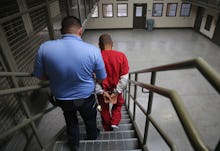 When the nascent Trump administration in February 2017 rescinded a months-old, Obama-era Department of Justice directive to stop using private prisons, the move raised eyebrows.
One of the biggest operators of private prisons had made sizable donations to a Trump-supporting super PAC in the immediate aftermath of the Obama administration's move — including a $100,000 contribution in August 2016, the day after then-deputy attorney general Sally Yates announced the order in a memo to the Federal Bureau of Prisons.
To the Campaign Legal Center, the move was beyond suspicious — and the watchdog group immediately took action to get answers about the DOJ's reversal.
"Our overarching concern is that the GEO Group has bought influence with the Trump administration," Brendan Fischer, director of federal reform at the Campaign Legal Center, said in an interview. "There's a direct connection between GEO Group's [contributions] and a policy goal that would directly benefit its bottom line."
More than a year into Donald Trump's presidency, the private prison industry is still thriving — and with the administration ramping up its hardline immigration policies at the border, the industry is likely to see even more gains going forward.
More than 70% of those detained by the Department of Homeland Security are held in privately owned facilities. As Trump has aggressively pursued his crackdown at the border, the administration is looking for more private detention facilities to house undocumented immigrants. And the border security push is likely to result in bigger earnings for operators of private prisons.
"They're funding candidates who are hard on immigration," Sharita Gruberg, associate director of the LGBT Research and Communications Project at the Center for American Progress and an expert on immigration law, said. "They definitely figured out that it's in their interest to support this administration."
Trump, Rubio and others get big backing from industry
The private prison industry has long played a role in the enforcement of U.S. immigration laws.
As a May report by the Migration Policy Institute observed, CoreCivic and GEO Group — the two biggest operators of private prisons in the U.S. — have earned a significant portion of their revenue from "detaining immigrants, including those identified for removal, asylum seekers and others awaiting a hearing in immigration court and those in the process of being deported."
But the industry was appearing to fall out of favor with the Obama administration.
On Aug. 18, 2016, then-deputy attorney general Yates issued a memo ordering the Federal Bureau of Prisons to phase out its use of private prisons.
Declining prison populations, Yates wrote, had made it unnecessary for the government to outsource to private companies — and, she added, an internal audit had shown private prisons to be more expensive and of lower quality than those operated by the federal government.
"For all these reasons," Yates wrote to the bureau, "l am eager to enlist your help in beginning the process of reducing — and ultimately ending — our use of privately operated prisons."
The narrow directive impacted only a relatively small pie slice of private prison companies' business, but the industry nevertheless regarded it as a threat; as the Washington Post noted at the time, the two biggest private prison companies in the country got about half their revenue from government contracts, and the Obama administration's move sent their stocks plummeting more than 35%.
Pablo Paez, a spokesperson for GEO Group, one of the largest operators of private prisons, told the Post at the time that the company was "disappointed" by the DOJ's decision.
The industry wouldn't have to be "disappointed" for long, though.
Barely a month after Trump took office, new attorney general Jeff Sessions rescinded Yates' order, writing Feb. 21, 2017, that the memo had "changed long-standing policy and practice, and impaired the Bureau's ability to meet the future needs of the federal correctional system."
The day after Yates' announcement, GEO Corrections Holdings had donated $100,000 to Rebuilding America Now, a super PAC supporting Donald Trump's 2016 presidential campaign, according to campaign disclosures. GEO donated another $125,000 to the Trump-backing PAC Nov. 1 — a week before election day.
Rebuilding America Now — created in 2016 by Trump ally Tom Barrack, a real estate investor who would later lead the Trump Inaugural Committee — was considered the main super PAC supporting the Trump campaign. The group also had ties to big figures in Trump's orbit, including consultant Ken McKay and Laurance Gay, an associate of the embattled former Trump campaign chairman Paul Manafort.
If the industry was betting on Trump to improve its fortunes, the gamble has appeared to pay off. Just a couple months after Trump took over, the two largest private prison companies — CoreCivic and GEO Group — saw their stock spike 30% and 20% respectively, owing in large part to the president's hardline immigration policies, analysts told the New York Times in 2017.
And during the current crisis at the border — spurred by Trump's zero tolerance policy, which has resulted in the separation of migrant families — CoreCivic and GEO Group have seen their stocks rise, as immigration attorney R. Andrew Free observed June 20 on Twitter.
"The GEO Group has done very well under the Trump administration," Fischer of the Campaign Legal Center said. "It's seen its stock prices rise significantly."
But it isn't just Trump who has taken money from the private prison industry, according to Federal Election Commission data.
In April 2018, for instance, GEO gave $5,000 to the Great America Committee — the super PAC registered by Vice President Mike Pence that some saw as a signal he had his sights on the Oval Office. Corey Lewandowski, who ran the Trump campaign before Manafort, is an adviser to the committee and has been a vocal defender of the administration's draconian immigration policies.
For its part, CoreCivic — formerly known as Corrections Corporation of America — gave big money to Republicans during the 2016 election cycle, including a pair of $15,000 contributions that May to the National Republican Congressional Committee and the National Republican Senatorial Committee.
The industry has also backed numerous prominent Republicans on Capitol Hill.
Sen. Marco Rubio (R-Fla.) has been especially close to the industry, with campaigns and groups associated with him receiving significant amounts of money from Florida-based GEO Group and its leadership.
During the last election cycle, GEO Group CEO George Zoley made sizable contributions to Rubio's failed 2016 presidential campaign, his Senate campaign and his super PAC, Reclaim America.
The GEO Group, Inc., Political Action Committee also backed the Florida Republican, giving $5,000 to the Rubio Victory Committee in January 2015 and thousands more to his presidential and senatorial campaigns in 2016.
The GEO PAC continued to donate big money to Rubio in 2017, pouring $25,000 into his victory fund between March and October of last year.
Rubio isn't alone.
Sen. Ted Cruz (R-Texas) received $5,000 from GEO Group in May as he faces a midterm challenge from Democrat Beto O'Rourke, who has called for an "end" to "private prisons and private immigrant detention centers in this country."
Neither Rubio nor Cruz returned Mic's requests for comment.
While Rubio and Cruz have been generally supportive of Trump's immigration crackdown, politicians who have been critical of elements of the administration's policy have also taken money from companies like GEO and CoreCivic that operate private immigration detention centers.
Florida Gov. Rick Scott — a Republican who has criticized Trump's family separation policy at the U.S. border — has taken money from GEO during his current Senate run.
Scott did not return Mic's request for comment.
Sen. Patty Murray (D-Wash.), a critic of Trump's draconian immigration policies who has called the conditions at privately run immigrant detention centers "highly disturbing," nevertheless accepted campaign money from GEO, which operates an immigrant detention center in Tacoma, in her home state of Washington.
Murray did not respond to Mic's request for comment.
"They've given a lot of money over the years both to candidates and to lobbying appropriators," Gruberg said. "There's a lot of different layers to this."
Private prisons incentivizes detentions
According to experts, the use of private prisons incentivizes detention.
"Over the last decade or so, DHS has become increasingly reliant on using private prisons to house immigrants," Gruberg said. "This has run alongside an expansion in the use of detention."
That's not ideal, according to Philip E. Wolgin, managing director of immigration policy at the Center for American Progress.
Conditions in immigrant detention centers can be "horrible," Wolgin said in an interview, adding that there are a number of better options.
"There are workable, proven alternatives," Wolgin said. "I don't think people are really processing enough how bad conditions are in these facilities."
CAP's Gruberg said detention simply isn't safe, citing the prevalence of sexual abuse and other violence at facilities. "The alternatives to detention aren't perfect, but compared to detention they're definitely preferable."
After the Trump administration killed the Obama-era memo calling for the government to phase out its use of private prisons, the Campaign Legal Center filed a series of Freedom of Information Act requests seeking transparency about the decision.
According to Fischer, Sessions' DOJ has been "uncooperative" with them.
The Campaign Legal Center also has an FEC complaint — and a separate lawsuit urging the FEC to take action on the complaint from 2016 — that are still pending, Fischer said.
"When you're talking about criminal justice policy and immigration policy, those are highly sensitive areas that have a very human impact," Fischer said. "Public policy is supposed to be crafted in the public interest, not in the interest of a handful of wealthy political donors."