Mic Daily: Supreme Court upholds Trump's travel ban, Terry Crews speaks out on assault and more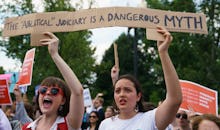 Welcome to Mic Daily: Mic's short, smart email newsletter that cuts through the noise and lands in your inbox every weekday. We carefully curate each edition to send you a cross section of our most impactful, vital, touching stories of the day.
In a 5-4 decision Tuesday, the U.S. Supreme Court ruled in favor of the third iteration of President Donald Trump's travel ban on five majority-Muslim countries.
Chief Justice John Roberts wrote in his decision that Trump had used his executive authority to "suspend entry of aliens into the United States," according to BuzzFeed News' Chris Geidner.
Reality Winner, the first whistleblower to be prosecuted as part of the Trump administration's crackdown on leakers, pleaded guilty Tuesday to one count of espionage in exchange for a 63-month prison sentence and three years of supervised release, according to multiple reports.
"All of my actions I did willfully, meaning I did so of my own free will," the former National Security Agency contractor told a federal court in Georgia on Tuesday, according to the New York Times.
On Pose, Blanca's dramatic and often moving storyline is unlike any other story being told on TV right now. Mic caught up with actress Mj Rodriguez to talk about her breakout TV role, her past in theater and what this show has meant to her so far.
Actor Terry Crews made a powerful statement on behalf of sexual assault survivors and the #MeToo movement Tuesday during a Senate Judiciary Committee hearing on the Sexual Assault Survivors' Bill of Rights.
Crews, who in October revealed in a series of tweets he had been assaulted by a "high-level Hollywood executive," told the committee why he didn't physically retaliate against his alleged aggressor, Hollywood agent Adam Venit: He thought an act of violence would endanger his reputation, career or even his life.
Alison Ettel, a white San Francisco woman who threatened to call police Saturday on an 8-year-old black girl for selling water in front of an apartment building without a license, is facing a wave of financial and advertising divestment from her cannabis company, TreatWell, where she is CEO.
Subscribe to Mic's newest series, Transplaining, a weekly advice column spearheaded by Mic correspondent Serena Daniari. The first edition is about the concept of "passing."