Mitt Romney wins run-off for senate seat in Utah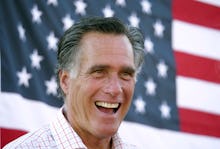 Mitt Romney on Tuesday won his run-off against state representative Mike Kennedy, officially becoming the Republican nominee to replace outgoing Sen. Orrin Hatch (R-Utah). The Associated Press called the race for Romney at 8:24 p.m. MDT.
Romney will now face Democrat Jenny Wilson, the first woman elected to the Salt Lake County Council, in November's midterm elections, which will likely be seen as a referendum on the first half of President Donald Trump's controversial first term.
Romney has had a hot-cold relationship with the president.
The former GOP presidential nominee was a harsh critic of Trump during the 2016 campaign, most notably during a speech in March of that year in which he called the reality star-turned-politician a "phony" and a "fraud" who was "playing the American public for suckers."
He claimed not to have voted for Trump in 2016, telling reporters last May that he wrote his wife Ann's name in for president instead. Despite his lack of support for Trump, he was apparently among those the president-elect considered for secretary of state — a position that eventually went to Rex Tillerson, who was replaced with Mike Pompeo earlier this year.
Romney has criticized Trump at times since he took office, including in the video he posted to Twitter in February announcing his Senate candidacy, but he has also cozied up to the president, who endorsed his bid to replace Hatch in deep red Utah.
"He will make a great senator and worthy successor to [Hatch]," Trump tweeted in February, "and has my full support and endorsement!"
"Thank you Mr. President for the support," Romney tweeted in response. "I hope that over the course of my campaign I also earn the support and endorsement of the people of Utah."
In an op-ed for the Salt Lake Tribune on Sunday, Romney wrote that he "will support the president's policies when I believe they are in the best interest of Utah and the nation" and that "the first year of his administration has exceeded my expectations."
Yet he also said he disagrees "with certain of the administration decisions" and warned that he "will continue to speak out when the president says or does something which is divisive, racist, sexist, anti-immigrant, dishonest or destructive to democratic institutions."
"If you elect me your senator, I will fight with vigor for the interests of our state and nation," Romney wrote. "I will endorse the president's policies that support those interests. Hopefully, there will be few occasions where I will be compelled by conscience to criticize. But, as I have said throughout this campaign, I will call them like I see them."
Hatch, an ally of the president, announced in January that he is retiring and will not serve another term.
Romney was the biggest name floated to replace the 83-year-old senator. He'd served as governor of Massachusetts and ran for president in 2012, when he was defeated by then-President Barack Obama.
But Romney — who was born in Michigan and made his political bones in Massachusetts — was unable to secure the 60% of votes necessary to win the GOP nomination for Hatch's Senate seat outright in April, forcing Tuesday's run-off with Kennedy.
He will now face Wilson, who won an uncontested race for the Democratic nomination on Tuesday.
June 26, 2018, 10:43 p.m. Eastern: This story has been updated.