Hype Daily: Cute child stars, Janelle Monáe and "BDE"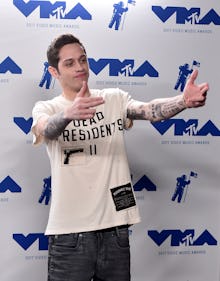 Welcome to Hype Daily, Mic's morning entertainment roundup. Here's everything you need to catch up on in the entertainment world, and what to look forward to today. Want to receive this as a daily email in your inbox? Subscribe here.
Good morning from Hype reporter Anna Swartz.
What is "BDE" and why is everyone talking about it?
If it seemed like everyone on your Twitter timeline last night was assessing the BDE of various celebrities, corporations or inanimate objects — they were. So what is BDE? It's big dick energy, obviously. On Tuesday morning, the Cut published a very helpful explainer of BDE, citing the qualifying attributes of Ariana Grande's new fiancé, Pete Davidson; the piece also offers a list of other celebs who either do or do not possess BDE.
Does it have to do with any actual anatomy? Yes and no. BDE, as Twitter has shaped it, is more of a state of mind than anything else. And by Tuesday night, as the phrase was dominating your timeline, outlets were publishing stories with headlines like, "Do These Marvel Heroes Have BDE or No," "Which Australian Politicians Have Got That Big Dick Energy" and "Big dick energy: What is it, who has it and should we really care?" Yes, apparently we all should.
Janelle Monáe isn't here for any outfit shaming
Singer Janelle Monáe, who recently came out as pansexual in a Rolling Stone interview, wore an incredibly great and massive rainbow skirt to the BET Awards on Sunday night, as a show of pride. But the star was not here for shaming anyone else's outfit choice. As culture writer Myles E. Johnson noted in a tweet, Monáe got into it in her Instagram comments when some stranger commented on a photo of her BET outfit saying, "Thank you for dressing like a lady! Unlike some of the other outfits I saw! Class act you are!!!!"
Monáe responded, "Hey, that's not a compliment to me love. I'm not into respectability politics. And no matter what we (the 'others' you are referring to) wear we define on our own terms what is 'lady like.' Naked, half naked, fully clothed, etc. we are all to be respected and should not be made to feel less than especially by other women." You go, Janelle!
Rashida Jones and #TimesUp made a PSA about workplace harassment
Actress Rashida Jones has been involved in the Time's Up initiative — the organization founded to combat workplace sexual harassment in Hollywood and beyond — from the start. Now she's created a helpful Time's Up public service announcement outlining some pretty basic things to think about when it comes to workplace interactions. The video was first shared by BuzzFeed on Tuesday, and features actor and musician Donald Glover narrating as stick figures navigate situations like asking out co-workers and complimenting people's clothing.
"There was this giant sea change, which is great," Jones told BuzzFeed. "It had to happen. But now we have to get to the nitty-gritty of what we want our world to look like in 20 years."
"This is not a mandate; we're not telling people how to live their lives," she continued. "This is really just to incite self-reflection and for people to look at the way they behave in their workplaces."
This adorable This Is Us star just basically ended cyberbullying
Well, maybe he didn't end cyberbullying altogether, but Lonnie Chavis of This Is Us is definitely trying to get us all to "Be Best." In a video posted on his Instagram page, Chavis directed some comments to internet bullies who make fun of the gap between his two front teeth.
"I could get my gap fixed," Chavis says straight to the camera. "Braces can fix this, but like, can you fix your heart, though? There are kids out there killing themselves just because of y'all hating and trolling and doing just crazy stuff. I mean, it's stupid. Is it fun? No. It hurts people. People kill themselves, and you're the one who's making them doing it. Fix your heart, though. For real."
Watch the video on Chavis' Instagram, here.
Put this on your radar: The Domestics
If you're a fan of movies with lots of blood and guts, you might want to check out the new thriller The Domestics, which hits theaters on Thursday. I haven't seen it myself (because I'm adamantly not a fan of movies with blood and guts) but the film, a directorial debut from Mike P. Nelson, is already getting good buzz from gore fans. It stars Kate Bosworth and Tyler Hoechlin as a couple trying to make it through the Midwest in a post-apocalyptic future when the U.S. has become a violent wasteland dominated by roving, costumed groups of murderers, basically. Sounds cheery!