South Carolina Gov. Henry McMaster narrowly escapes defeat in primary runoff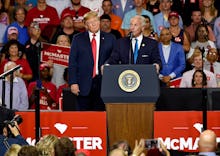 South Carolina's Republican Gov. Henry McMaster barely survived a primary challenge from a Trump-style opponent in Tuesday night's runoff primary.
The Associated Press called the race at 9:15 p.m. Eastern, with McMaster leading by 7 percentage points with more than 84% of precincts reporting.
A staunch conservative, McMaster was an early Trump ally. He was the first statewide elected official to endorse Trump in the 2016 primaries. Despite his conservative bona fides, he faced a surprisingly strong primary challenge from businessman and political neophyte John Warren.
McMaster finished first in an earlier June 12 primary, but failed to earn a majority of voters' support and was forced into a runoff with Warren.
Warren ran a campaign with a Trump-like message, vowing to drain the swamp, and focused on an illegal lobbying scandal surrounding one of McMaster's top aides.
In a last ditch effort to boost McMaster, Trump held a campaign-style rally supporting McMaster the night before the primary and touted McMaster's record as tough on crime and border security.
That appears to have been just enough to help McMaster keep his spot at the top of the ticket, but the narrow margin between the incumbent governor and his challenger illustrate the limits of a Trump endorsement in 2018.