Colorado Rep. Jared Polis could become nation's first out gay elected governor after primary win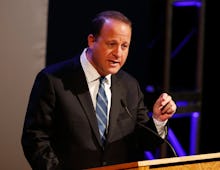 Rep. Jared Polis (D-Colo.) will challenge Colorado's Republican Treasurer Walker Stapleton for the state's governor mansion following two primary victories Tuesday night.
If Polis defeats Stapleton, he will become the nation's first out gay elected governor.
The Associated Press called the races for both candidates, who will face off in November in the state's gubernatorial race to replace Gov. John Hickenlooper, a Democrat who is term-limited and is rumored to be considering a presidential bid in 2020.
His coming departure opened up a competitive field of Democrats and Republicans to replace him in the state that appears to be turning a bluer shade of purple.
Stapleton, the GOP establishment's preferred candidate, is a conservative who has aligned himself with President Donald Trump, who loomed large over Tuesday's primaries and will likely do so in the midterm elections in November.
He easily dispatched Victor Mitchell, Greg Lopez and Doug Robinson to clinch the Republican nomination. While each Republican had expressed support for Trump during the race, Robinson notably voiced opposition to the president's draconian family separation immigration policy.
The Democratic primary could be a harbinger of things to come in the formerly moderate state. Polis, a businessman-turned-congressman, has embraced a liberal agenda and would become the first openly gay elector governor in the history of the state — and country.
He beat Cary Kennedy, Mike Johnson and Donna Lynne to clinch the Democratic nomination.
"We will win in November," Polis said at his victory celebration Tuesday. "Together, we can prove that in our America, in our Colorado, anything is possible."
June 26, 2018, 10:57 p.m. Eastern: This story has been updated.