Dan Donovan wins in Trump-obsessed battle for Staten Island Republican nomination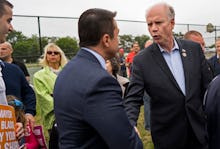 Incumbent Rep. Dan Donovan has won the primary race to be the Republican nominee for New York City's only Republican-held congressional seat.
The Associated Press called the race at 9:33, with Dan Donovan leading by 29 percentage points with more than 95% of precincts reporting.
Donovan faced an intense primary challenge from former congressman and felon Michael Grimm who vacated the seat after being convicted of tax fraud in 2015.
The primary race between the two men had been bizarrely focused on fealty to President Donald Trump, at one point centering on whether or not Donovan had sufficiently beseeched Trump to pardon Grimm for his felony conviction.
During one debate Donovan claimed that he had actually pursued trying to get the president to pardon Grimm but that the president declined after finding out Grimm had been a "never-Trumper" during the 2016 presidential election.
The admission that the president of the United States makes his pardon decisions based on who did and did not support him in his election bid was odd on its face, but even more odd given that the two men were both trying to cast themselves as the more Trump friendly candidate.
Grimm based his campaign on a message that voters needed to "have our president's back," while Donovan touted an actual endorsement from the president.
That endorsement further complicated the race, with the president claiming voters should support Donovan because he "voted for Tax Cuts" despite the fact that Donovan actually voted against the GOP's tax overhaul legislation.
Donovan will face Democratic nominee Max Rose in a race that many believe could be a potential Democratic pickup in November.