Democratic Socialist star Ocasio-Cortez topples a member of Democratic leadership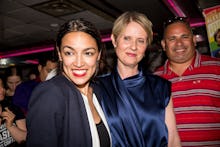 Welcome to Mic's daily read on Donald Trump's America. Want to receive this as a daily email in your inbox? Subscribe here.
Here's what's happening in Trump's America:
• House Republicans are set to vote on an immigration bill that no one seems to think has enough votes to pass
• Trump will deliver remarks at the Face-to-Face With Our Future event at noon Eastern.
• At 12:45 p.m. Eastern, Trump will meet with Secretary of State Mike Pompeo before attending a bilateral meeting with the president of Portugal at 2:00 p.m.
• Trump will then depart for Fargo, North Dakota, where he will hold a rally in support of Kevin Cramer who is challenging Democratic Sen. Heidi Heitkamp.
About last night: Socialist star Ocasio-Cortez topples a member of Democratic leadership
In a stunning political upset, Democratic Socialist millennial candidate Alexandria Ocasio-Cortez unseated one of the house's top-ranking Democrats, New York Rep. Joe Crowley.
Crowley, the chairman of the Democratic Caucus, was widely believed to have ambitions to become the next speaker of the House. Instead he will exit Congress after losing to Ocasio-Cortez by a whopping 15 percentage points.
Ocasio-Cortez ran on a platform supporting single-payer health care and abolishing U.S. Immigration and Customs Enforcement, making her victory a clear signal to Democratic leadership about progressive priorities in blue states like New York.
Yet her victory also sent a different message to the Democratic establishment: Ignore the next generation at your own peril. Despite being in Congress for nearly two decades, Crowley had never actually had a competitive election. In 1998 he was effectively gifted the seat by his mentor, longtime New York Congressman Thomas Manton.
Way back in February, Ocasio-Cortez told Mic that was one of the reasons she felt drawn to challenge her longtime congressman.
"He wasn't democratically elected," she said. "He didn't democratically win a primary. That is how we've had such unrepresentative representation of our district for so long."
Now the party's entrenched incumbents will have to think twice about resting on their laurels.
Today in Trump's America: Another Trump rally as allies of the president continue to squeak by
President Donald Trump will participate in his third campaign rally in less than a week to build support for yet another GOP candidate ahead of the midterms. This time Trump will rally in support of North Dakota Republican Rep. Kevin Cramer, who is challenging incumbent Democratic Sen. Heidi Heitkamp in the fall.
The North Dakota rally comes on the heels of a Monday rally in South Carolina designed to support incumbent Gov. Henry McMaster in a heated primary race. McMaster won Tuesday night but only by a mere 7 percentage points despite being a sitting elected official.
GOP candidates in states like North Dakota and Nevada hope that by appearing onstage with the president, they will excite the GOP base that elected Trump.
That gamble could backfire, however, as many expect progressive enthusiasm in 2018 will turn out a host of newly activated Democratic and swing voters who oppose the president's agenda on key issues. At a similar rally over the weekend in support of Nevada GOP Sen. Dean Heller, Heller spent no more than three minutes onstage with Trump, whose harsh immigration policies could be toxic in the Western state.
Polling shows Heitkamp and Cramer are effectively tied, meaning any small move could tip the scale in either direction.
Capitol Hill happenings: House Republicans set to face another embarrassing self-defeat on immigration bill
Later today Republicans in the House of Representatives are set to vote on their long- debated immigration bill, but no one seems to think they actually have the votes to pass it.
The bill is an attempt to reconcile the vast split between the party's moderates and hardliners on the issue of immigration and has been thrown into chaos by the president's wavering support.
"This only works if Trump's behind us," one Republican House member told CNN. "No use sticking out our necks if the bill's going to fail."
Normally, leadership would not bring a bill to the floor if it thought it was doomed to fail, but House Speaker Paul Ryan had his hand forced by vulnerable GOP moderates who feared the issue would hurt them in the coming midterm election. They threatened to force a vote on a compromise bill with Democrats.
This hardly seems like an outcome that will placate anyone in the GOP House caucus. If the bill goes down, moderates will still have to explain why failing to pass a bill with GOP colleagues is better than passing one with Democrats.
House leadership will also suffer another embarrassing defeat at a time when Republicans control all three branches of government, and Congress will likely be forced to cobble together a narrower bill on family separation policy before leaving for the July recess.
And the rest…
It's not Just Ocasio-Cortez: While Alexandria Ocasio-Cortez's successful defeat of Rep. Joe Crowley stole the headlines Wednesday morning, several other progressive challengers had unexpectedly strong nights across the state of New York. In New York's 9th Congressional District, incumbent Rep. Yvette Clarke just barely beat her progressive challenger Adem Bunkeddeko by less than 4 percentage points. In New York's 11th incumbent Rep. Carolyn Maloney beat her progressive challenger 59 percent to 41 percent, a surprisingly close race for a popular incumbent. And upstate, in the race to challenge embattled GOP Rep. John Katko, progressive single-payer advocate Dana Balter beat Democratic Congressional Campaign Committee-backed candidate Juanita Perez Williams.
Trump's pick for VA secretary is a neo-confederate Trump's new choice to run the Department of Veterans Affairs, Robert Wilkie, has a long outspoken record of proud support for the confederacy.
Oklahoma legalizes medical marijuana Voters on in Oklahoma voted to legalize medical weed on Tuesday.