Supreme Court: Neil Gorsuch's first full term results in a slew of 5-4 conservative opinions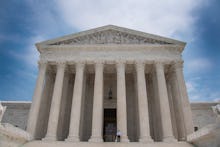 The U.S. Supreme Court released its final rulings of the term Wednesday, wrapping up a term defined by a number of close decisions and conservative rulings.
This marked the first full term for Associate Justice Neil Gorsuch, who was confirmed in April 2017 after congressional Republicans blocked the confirmation of former President Barack Obama appointee Merrick Garland. The Republicans' decision not to hold a vote on Garland proved all the more influential with the court's recent rulings, as the conservative-leaning Gorsuch served as the deciding vote in a number of major cases.
This conservative bent in the court's decisions is likely to become more pronounced after Associate Justice Anthony Kennedy — long considered a moderate — officially steps down July 31. The successor President Donald Trump nominates is likely to be far more conservative in their views.
As a result of Gorsuch's place on the court, Republicans were rewarded with a number of rulings that upheld issues traditionally backed by conservatives. The Trump administration's anti-immigration agenda was validated by the court's Trump v. Hawaii ruling in favor of Trump's travel ban, while religious freedom advocates were dealt a narrow but significant win in the Masterpiece Cakeshop v. Colorado Civil Rights Commission ruling, in which the court sided with a Colorado baker who refused to make a wedding cake for a gay couple.
Anti-abortion advocates achieved success with the court's National Institute of Family and Life Advocates v. Becerra decision in favor of faith-based "crisis pregnancy centers" that counsel women against abortion and contraception, often using deceptive methods. Meanwhile, the court's ruling in Janus v. American Federation of State, County and Municipal Employees dealt a blow to unions, striking down mandatory public sector union fees paid by non-union members on the basis of free speech.
The court's latest decisions harmful to voters of color — who are traditionally more likely to vote Democratic — could potentially help strengthen the Republican voter base. Though the court avoided a ruling on partisan gerrymandering, it did uphold all but one Texas district accused of racial gerrymandering in Abbott v. Perez, which Associate Justice Sonia Sotomayor noted in her dissent means that "minority voters in Texas ... will continue to be underrepresented in the political process."
The court's ruling upholding Ohio's "voter purge" law, which allows the state to remove voters from its voter rolls if they ignore a mailed notice and fail to vote within a certain period of time, also takes aim at voters of color; a 2016 Reuters analysis found the policy disproportionately affects neighborhoods with a larger proportion of poor, black residents.
With the exception of the 7-2 ruling in Masterpiece Cakeshop, these rulings were all decided with 5-4 votes, demonstrating the full impact of Gorsuch's conservative viewpoint.
The court sidestepped some cases, but other rulings will have sweeping effects
In addition to its conservative bent, this Supreme Court term was also marked by several markedly narrow rulings, as the justices decided to "punt" on two key issues rather than issue comprehensive decisions.
The first narrow decision came in the Masterpiece case, in which the justices declined to rule on the broader issue of public accommodation laws barring LGBTQ discrimination. The justices also sidestepped the issue of partisan gerrymandering in two cases that concerned congressional maps in Wisconsin and Maryland seen as unfairly beneficial to Republicans and Democrats, respectively.
The court left open the possibility that these questions could be decided in the future, though that seemingly won't be coming next term: The court has already declined to hear cases concerning a reportedly gerrymandered map in North Carolina and a florist who refused service to a same-sex couple.
Despite these sidestepped issues, many of the court's decisions this term are set to have broad effects throughout the nation.
Worker's rights are predicted to take a hit thanks to the rulings in Janus and Epic Systems Corp. v. Lewis, in which the court upheld arbitration clauses that prevent employees from settling disputes through class-action lawsuits and other joint legal proceedings. The Epic Systems decision will affect the 24.7 million Americans who have such arbitration clauses in their employment contracts and could potentially hinder the ongoing #MeToo movement, as mandatory individual arbitration often prevents female victims from taking action against sexual harassment. Meanwhile, the Janus ruling — which NPR reported will affect labor laws in 22 states — could substantially weaken public sector unions, which in 2017 covered nearly 35% of all public sector workers.
Another case with far-reaching implications is NIFLA v. Becerra, in which the court dealt a blow to women's health advocates with its ruling against California's Reproductive Fact Act, a law that imposes disclosure requirements on anti-abortion-access "crisis pregnancy centers." It requires licensed facilities to inform patients about the state's public funding for contraception and abortion; unlicensed facilities must disclose they are not licensed medical facilities.
In declaring the California law a violation of those facilities' freedom of speech, the court opened up the possibility that other laws governing "professional speech," such as securities laws and consumer protection laws, could be challenged. In his dissent, Associate Justice Stephen Breyer predicted the ruling "could radically change prior law," writing, "Using the First Amendment to strike down economic and social laws that legislatures long would have thought themselves free to enact will, for the American public, obscure, not clarify, the true value of protecting freedom of speech."
Perhaps the court's most divisive ruling came in Trump v. Hawaii, in which the justices seemingly upheld Trump's anti-immigrant and anti-Muslim agenda by allowing his travel ban to move forward. The travel ban will affect citizens from Iran, North Korea, Syria, Libya, Yemen, Somalia and Venezuela, as well as those citizens' friends, families and colleagues who reside in the U.S. who may be hoping to receive visits from citizens in those countries or help facilitate their immigration to the U.S.
Along with its direct impact on travel and immigration plans for people from the affected countries — as well as the symbolism of the U.S. denying access to residents of several majority-Muslim countries — the travel ban is expected to have larger ripple effects on the country.
According to 2015 data from the Migration Policy Institute cited by Vox, almost 30% of doctors and surgeons in the U.S. are immigrants, with Iran and Syria ranking as the sixth- and 10th-largest contributors of physicians and surgeons to the U.S., respectively. The ban is also expected to hurt the travel industry; the Global Business Travel Association reported the U.S. lost $185 million in business travel bookings in just one week after Trump first announced the travel ban in January 2017.