Republican immigration bill fails in House — hours after Trump calls for its passage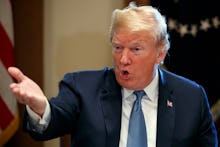 The House of Representatives voted down a sweeping, Republican-drafted immigration reform bill Wednesday, just hours after President Donald Trump announced his support for the proposed legislation.
"HOUSE REPUBLICANS SHOULD PASS THE STRONG BUT FAIR IMMIGRATION BILL, KNOWN AS GOODLATTE II, IN THEIR AFTERNOON VOTE TODAY, EVEN THOUGH THE DEMS WON'T LET IT PASS IN THE SENATE," Trump tweeted in his all-caps directive. "PASSAGE WILL SHOW THAT WE WANT STRONG BORDERS & SECURITY WHILE THE DEMS WANT OPEN BORDERS = CRIME."
"WIN!" he added.
The bill failed in a 121-301 vote.
Republicans had scrambled to cobble together an immigration compromise between hardline and moderate factions of the party — something Trump, who has faced a groundswell of criticism over his administration's zero tolerance policy at the border, was reportedly behind.
Trump had sent mixed messages about the bill. He tweeted Friday that Republicans would be "wasting their time" to attempt to pass a bill before November's midterm elections, but then on Wednesday, the morning of the vote, called for its passage.
The bill would have provided a path to citizenship for Deferred Action for Childhood Arrivals program beneficiaries, but it would also have included hardline measures, such as funding for the long-promised border wall, that Trump has been pushing for.
Trump has faced renewed outrage in recent weeks over his policy of separating families at the border. He falsely blamed Democrats for the draconian policy, but last week signed an executive order to keep families together. His zero tolerance policy of detaining and criminally prosecuting all undocumented immigrants at the border remains in place, and the order does nothing to address families that have already been separated.
On Tuesday, a federal judge ruled the government must reunite parents with the children who had been taken from them, slamming the administration for creating a "chaotic circumstance" at the border without a clear plan in place.
The compromise bill, which Trump dubbed "Goodlatte II" after Rep. Bob Goodlatte (R-Va.), had not been expected to pass the House — something House Speaker Paul Ryan (R-Wis.) seemed to acknowledge in remarks to reporters Tuesday.
"If that doesn't succeed, then we'll cross that bridge," Ryan said. "But the last thing I want to do is undercut a vote on what is a great consensus bill."
June 27, 2018, 2:15 p.m. Eastern: This story has been updated.