'Queer Eye' star Bobby Berk explains why he didn't want to enter that church in season 2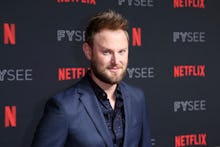 The hardest-working star on Netflix's makeover show Queer Eye is Bobby Berk, the interior designer who remodels entire houses in a week, while his co-stars go shopping, cook frittatas or teach scruffy men how to use a round brush. As such, Berk doesn't always get the on-screen recognition he deserves — because, you know, he's fending off termite infestations and installing marble countertops.
That unevenness in screen time shifts a bit in the recently released second season of Queer Eye. In the season premiere, we get a deep look at Bobby's painful history with religion, which was briefly touched on in the first season. When the Fab Five go to visit the episode's makeover subject, Tammye, at her local church, Bobby refuses to enter.
"I don't like being involved with the church, because there's so much hate against gays and fights against our basic rights that I have a hard time making peace with it," he says in the episode, after refusing to enter.
Later in the episode, Bobby admits that Tammye's unwavering kindness helped him realize that "not everyone that claims to be Christian is good, but there are a lot out there that are." Still, it's clear that there's a lot of pain there.
In a phone interview Friday, Bobby chatted about what it was like confronting his religious upbringing decades later — and what it's like reliving that moment yet again through watching the show. The following interview has been edited for length and clarity.
Mic: The first time we talked, you said you accidentally spent hours on the couch responding to Instagram messages when the first season came out. Has the premiere of season two taken over your life in quite the same way?
Bobby Berk: The momentum from the first season honestly hadn't even stopped when season two came out. It's been a pretty consistent, wild road ever since the first time we talked. It's been kind of insane and amazing all at the same time. The amount of DMs that keep coming really hasn't stopped.
I think a lot of people, myself included, were surprised at how quickly the second season came around.
BB: Yeah, everyone thought it was going to come out in 2019. There were multiple, quite big news outlets who were reporting 2019, but everyone was quite wrong.
Yeah, you filmed both seasons back to back, right? So, it was more a matter of editing, I guess.
BB: Yeah, we did. We filmed 16 episodes right back to back, then they decided which ones to put in each season, and then it was just a matter of editing. I know they wanted the second season to feel a little different, even though we did film it at the same time. I think, in season two, you get to know me and the Fab Five a little bit more. You get to know more of our backstories.
The episode where you have the most defined emotional arc is the season two premiere, with Tammye, where you talk with her quite extensively about your history in the church. How has it been reliving that again through watching the show?
BB: It's emotional — I would say almost as emotional as living through it. I've seen the episodes multiple times and every time I watch it again, I think, "Oh, I probably won't cry this time." And no — I do again. It's still a very sensitive and emotional topic for me. It's not easier reliving it now than it was then.
That week was very hard for me. In the beginning, I actually refused to do the episode. I told [Queer Eye production group ITV Studios] when I first got cast that I'll do anything or help anybody — just don't ever ask me to go into a church. And I wasn't really happy when that's exactly what they asked me to do. But through a lot of conversations and thoughts, I decided to [participate in the episode], and I'm glad I did.
I really think the episode has spoken to a lot of people who have had this relationship that I've had with the church — and those who have not had a relationship with the church, through no choice of their own, but through the church turning their back on them. And I think a lot of people were able to relate to that and maybe get a little bit of healing, realizing it has happened to a lot of us and they're not alone.
It's one thing to go through that journey of visiting the church in person and be by yourself in the moment, but what has the feedback been like from viewers of the episode? What have you been going through hearing other people react to it?
BB: I think the reaction I'm getting most is people being very happy that I did that [and refused to enter the church]. That I stood up and used that as a way to express my pain. That I used that as a way for thousands and thousands of other people to use it as a defining moment of expressing that this is what the church has done to us, and this is what the church continues to make gay people feel like, continues to make them feel unwelcome, continues to keep preaching hate, and make somebody who is in their late 30s still have so much pain from those situations that they won't even go into a church.
I think they're proud of me that I was able to draw a line and really, I think, reaffirm to people that our show is very real. Neither me nor the other Fab Five do anything we don't want to do, and our producers are really great at not forcing us to do so. They're really great in letting us not just tell the [makeover subject's] story, but to tell our story and allow people to go on that journey with us, and really show them that it's not produced.
I didn't know that day if I was going to go into the church. It was something we had talked about. I told producers, "You know what, when I get there, I don't know. We'll see." And when I got there, I couldn't. I had to know where to draw the line for my own mental health, and I think if I had gone into that church, we probably wouldn't have finished filming that episode that day because I would've broken down.