James Alex Fields Jr., suspect in deadly Charlottesville car attack, charged with hate crime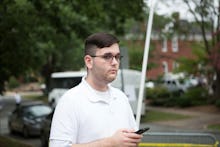 The man accused of ramming his car into a crowd of counterprotesters Aug. 12 in Charlottesville, Virginia, killing 32-year-old Heather Heyer in the process, now faces federal hate crime charges.
According to the U.S. Department of Justice, a grand jury indictment that was returned on Wednesday charged 21-year-old James Alex Fields Jr. with 30 crimes, including a hate crime charge stemming from Heyer's death and 29 other hate crimes involving the dozens of other rally attendees who were injured during the incident.
A so-called "Unite the Right" rally that was held in Charlottesville over the summer with self-avowed white supremacists brought with it hordes of counterprotesters. Fields allegedly plowed his car into a packed side street in what the indictment referred to as an act of "racially motivated violent interference." In the months since then, the FBI and DOJ had launched an investigation into the attack in an effort to determine whether federal hate crime charges were appropriate.
"Last summer's violence in Charlottesville cut short a promising young life and shocked the nation," U.S. Attorney General Jeff Sessions said in a statement on Wednesday. "Today's indictment should send a clear message to every would-be criminal in America that we aggressively prosecute violent crimes of hate that threaten the core principles of our nation."
Fields, a resident of Maumee, Ohio, has a documented history of sympathizing with white supremacist views, including posting Nazi imagery to a since-deleted Facebook page and what a former teacher described as a "fondness for Adolf Hitler."
In addition to the federal charges, Fields is also facing state charges for first-degree murder, and is scheduled to appear before a jury later this year.