Anthony Kennedy to retire from Supreme Court, giving Trump a second pick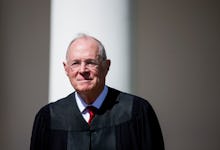 The Supreme Court on Wednesday announced that Associate Justice Anthony Kennedy will retire at the end of July, giving President Donald Trump another pick for the nation's high court.
"It has been the greatest honor and privilege to serve our nation in the federal judiciary for 43 years, 30 of those years on the Supreme Court," the long-serving justice said in a statement.
He will give up his seat on the bench July 31.
Kennedy, 81, had long been rumored to be mulling retirement, and the bombshell announcement of his coming departure Wednesday will have dramatic implications on the Supreme Court.
Kennedy — who has been serving on the high court since 1988 after being appointed by President Ronald Reagan, a Republican — is considered a moderate judge and wrote majority opinions in favor of same-sex marriage and affirmative action.
His retirement will give Trump an opportunity to nominate another hardline conservative to a lifetime appointment on the Supreme Court. Trump's first pick, Neil Gorsuch, has already been a key conservative vote in several controversial 5-4 decisions, including this week's ruling that upheld the president's travel ban.
Trump tapped Gorsuch to fill the late Antonin Scalia's seat on the bench after Republicans stymied Merrick Garland, former President Barack Obama's pick, for nearly a year until his nomination expired.
The "search for a new justice will begin immediately," Trump said after Kennedy's announcement.
June 27, 2018, 2:33 p.m. Eastern: This story has been updated.