Nicole Byer, host of Netflix's 'Nailed It!', talks season 2 and the appeal of kitchen disasters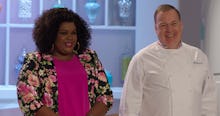 Nicole Byer can't bake. In fact, between filming her web show, recording a podcast and touring as a stand-up comedian, she rarely has time to cook anything — with the exception of one dish. "I make a thing called slop," she said in a phone interview. "It's ground turkey, parmesan cheese, ricotta and green beans. It doesn't look good."
Byer hosts Nailed It! on Netflix, a competition show for home bakers. Despite little baking experience, Byer was drawn to the show's loose structure and chance to improvise. "What appealed to me the most was the freedom to be me," she said. "I give them a lot of dick jokes."
The second season, available for streaming on Friday, largely follows the same format as the first. Three amateur bakers are challenged to imitate elaborate, over-the-top desserts to win a prize of $10,000. In its first season, bakers recreated fairytale landscapes, emojis and even Trump busts, to varying degrees of success. In its second season, bakers tackle even larger projects like gingerbread mansions and junk-food football stadiums.
Nailed It! is a departure from most culinary competitions on television in that it celebrates amateur bakers rather than criticizing their errors. The mistakes are somewhat predictable — overflowing cake pans, poor time management and unfinished products. The lopsided wedding cakes and animal cakes gone wrong often become the most entertaining parts of the show. But despite the range of kitchen mishaps she's witnessed, Byer said that there are still new surprises that leave her stunned. In the upcoming season, one contestant accidentally overheats microwave popcorn. "You'd be surprised," Byer said. "People can fuck up very simple things."
Part of the humor of the show stems from the dynamic between Byer and Jacques Torres, the chocolatier who serves as head judge. "I thought Jacques was going to hate me. I thought he was going to say, 'She knows nothing about cooking, she's dumb, she's too loud, she screams a lot,'" Byer said. "He is the nicest man in America." Together, the two judges are an unexpected, amusing combination.
"We come from two very different worlds, comedy and culinary. Nicole is very funny, she thinks fast and always has a unexpected answer," Torres said in an email. "I learned a lot working with her." Unlike other competitive cooking shows, there is no stern, critical judge tearing contestants down.
The show has an initial "baker's choice" round, followed by a longer, more labor-intensive challenge, not unlike MasterChef or Top Chef. But the competitors, often aspiring professional bakers drawn to food through a love of cooking for family, are in on the joke; they acknowledge mistakes and laugh alongside judges at fondant accidents and frosting mishaps. Sore losers are a rarity. "They don't take it too hard," Byer said. "I don't think we've had a genuinely upset contestant."
During its upcoming season, Byer and Torres are joined by celebrity guest judges, including wedding cake master Ron Ben-Israel and NFL player Johnny Hekker. "He's a tall drink of strawberry milk," Byer said of Hekker. The host is cheerful about the overwhelmingly positive reaction to the show. "I hope people have a nice escape from their world. Maybe your mom has cancer or maybe you lost your job. I hope you turn it on, and for half an hour, I'm on that screen and you don't have to think about that," she said. "I just want people to giggle."
One moment in the upcoming season might accomplish that. "Somebody put the wrong ingredient in their cupcake and my immediate reaction was 'Is this really that awful? What's in my mouth?'" Byer said. The contestant realizes his grave mistake: It's salt. As the judges beg for water, Ben-Israel consoles the contestant with two thumbs up and a few words of encouragement: "Keep on baking."