Trump "immediately" begins search for Kennedy replacement that could bring dramatic shift to US law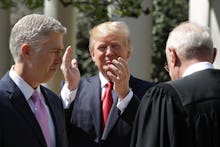 President Donald Trump praised retiring Supreme Court Associate Justice Anthony Kennedy on Wednesday, adding that his search for Kennedy's replacement will begin "immediately."
"He will be missed, but he will be retiring," Trump said from the White House. "Our search for a new justice of the United States Supreme Court will begin immediately, and hopefully we'll pick somebody who's as outstanding."
Kennedy, 81, announced his July 31 retirement from the Supreme Court on Wednesday. His departure will almost certainly lead to a dramatic, long-term shift on the nation's highest court, one that could have major implications on everything from abortion to voting rights.
Trump has already had one Supreme Court pick; his choice, Neil Gorsuch, has provided key votes in controversial decisions, including a 5-4 ruling upholding the president's travel ban.
Not only has Gorsuch been reliably conservative on the bench so far, he's also likely to be there a long time. At just 50 years old, Gorsuch is currently the youngest associate justice on the court. With the projected retirement age of a justice now at 83, according to Bloomberg, Gorsuch may have more than three decades left on the bench.
Two of the next three oldest Supreme Court justices are liberal. Ruth Bader Ginsburg — who has long been considered one of the court's strongest liberal voices — is 85. Stephen Breyer, a liberal, is the next oldest at 79. Conservatives Clarence Thomas, Samuel Alito and John Roberts are 70, 68 and 63, respectively.
"Earth-shaking & gut-wrenching," Sen. Richard Blumenthal (D-Conn.) wrote on Twitter in reaction to the news. "Departure of Justice Kennedy means a historic challenge is ahead."
It would be a stretch to call Kennedy a liberal justice. As an appointee of former President Ronald Reagan, he wrote the majority opinion in the landmark Citizens United case in 2010 that has been decried by liberals. The moderate justice often sided with the court's liberal bloc, however, and wrote the majority opinion in favor of marriage equality in 2015.
Trump is almost certain to pick a more conservative justice than Kennedy. He's already said his nominee will come from the list of candidates he previously released. He announced some of those names during the 2016 campaign, seemingly using the list of potential judges to soothe conservative voters who felt uneasy about his candidacy.
The potential candidates on his list are largely white, male, conservative and relatively young. As USA Today noted in December 2016, that could translate to possibly a "quarter century or more on the court."
It's difficult to overstate how seismic a shift Kennedy's retirement could be for the court and for American society as a whole. Abortion rights, for instance, may be in significant peril; legal analyst Jeffrey Toobin predicted Wednesday that "abortion will be illegal in 20 states" in less than two years.
Senate Majority Leader Mitch McConnell — who led a Republican blockade against Merrick Garland, former President Barack Obama's pick to replace the late Antonin Scalia — said Wednesday that Kennedy's successor would be confirmed in the fall.
"It's imperative that the president's nominee be considered fairly and not subjected to personal attacks," McConnell said on the Senate floor.
Senate Minority Leader Chuck Schumer said it would be "the absolute height of hypocrisy" for Republicans to confirm a justice in an election year, given their response to Garland's nomination. He called on Americans to "realize that their rights and opportunities are threatened."
"This is the most important Supreme Court vacancy for this country in at least a generation," Schumer said on the Senate floor Wednesday. "Nothing less than the fate of our health care system, reproductive rights for women and countless other protections for middle-class Americans are at stake."