Hype Daily: 'Queer Eye' divided, new Drake on the way and more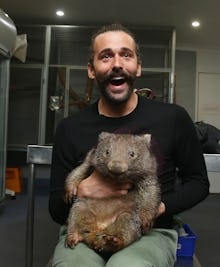 Welcome to Hype Daily, Mic's morning entertainment roundup. Here's everything you need to catch up on in the entertainment world, and what to look forward to today. Want to receive this as a daily email in your inbox? Subscribe here.
Good morning from Hype reporter Anna Swartz.
New Drake is on the way, kids
The dust has barely settled from Drake's public feud with Pusha T — during which Pusha released a diss track accusing Drake of being an absentee father to a secret child — but Drake is moving on with new music. His new album Scorpion, which is the follow-up to 2017's "playlist" More Life, drops Friday. It's been hyped with a series of mysterious billboards spotted in Toronto, an album trailer and rumors that Scorpion will be a double album. But the real question is: Will Drizzy deliver a contender for song of the summer? Only hours left until we find out.
The Queer Eye guys on where they'd draw the line
Queer Eye's grooming expert Jonathan Van Ness got explicit in a conversation with E. Alex Jung of Vulture, which published Wednesday. Jung asked the Queer Eye cast — who've now spent two seasons of their Netflix show roaming around Georgia, handing out makeovers and life advice — if they would make over the baker who refused to make a wedding cake for a gay couple in the case that eventually went to the Supreme Court.
Food dude Antoni Porowski said he would — but Van Ness seemed conflicted. "Personally, where I come from, I have had people my entire life tell me to my face, 'I don't agree with your lifestyle. You should never be able to be married. You're a faggot,'" Van Ness said. As to whether he would want to make over someone who fought to be able to deny service to gay people? "I don't know if I'd want that episode. I really don't," Van Ness said. This might go without saying, but I'll say it anyhow: The lengthy group interview is a must-read for Queer Eye fans.
Janet Mock was on The Daily Show talking about cool stuff
Writer, creator and advocate Janet Mock appeared on The Daily Show With Trevor Noah on Wednesday night to talk about her role as a writer, director and producer on the FX series Pose. The show, set in New York City in the '80s, follows several intersecting stories of characters involved in the city's ballroom culture. It also features trans women playing trans characters — a welcome departure from Hollywood's tendency to cast cis actors in trans roles.
On Wednesday night, Mock told Noah she hopes the series will deepen the public understanding of trans identities. "On our show we center [the trans] experience, and we don't show the origin of our characters," Mock said "We show them as just full-bodied trans people living in New York City."
"With that, you show that trans folk are not a monolith," Mock continued, "that we don't all have the same dreams and desires, that we read and shade one another and that we can be villains as well as protagonists."
Put this on your radar: Nailed It! is coming back
The delightfully weird Netflix cooking competition show Nailed It! debuts its second season Friday. The first season saw host Nicole Byer, along with pastry expert Jacques Torres, cheering on amateur bakers as they attempt to recreate over-the-top, complicated desserts with little to moderate success. The end result is a surprisingly sweet, very funny cooking show. Let's hope season two keeps up the pace.
Also put this on your radar: RuPaul will crown a queen tonight
Season 10 of the reality competition show Drag Race wraps up with a grand finale Thursday night. Host, creator and drag mogul RuPaul will crown one of the final four queens as the next drag superstar. It's been a drama-filled season, with conflict on-screen and off-, as fans have debated the show's handling of race.
The finalists have been whittled down to Asia O'Hara, Eureka, Kameron Michaels and Aquaria. If those names don't mean anything to you, you probably shouldn't tune in tonight to see who wins. Drag Race will air at 8 p.m. Eastern on VH1.