Trump is still casting doubt on Russia's interference in the 2016 election, ahead of Putin meeting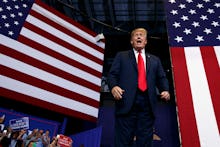 President Donald Trump on Thursday continued to cast doubt on the United States intelligence community's conclusion that the Kremlin meddled in the 2016 presidential election — just weeks before he's set to meet with Russian President Vladimir Putin in Finland.
"Russia continues to say they had nothing to do with Meddling in our Election!" Trump tweeted early Thursday. "Where is the DNC Server, and why didn't Shady James Comey and the now disgraced FBI agents take and closely examine it? Why isn't Hillary/Russia being looked at? So many questions, so much corruption!"
Trump — who remains under investigation for possible collusion with Russia, along with potential obstruction of justice — has long publicly questioned if the Kremlin actually interfered with the U.S. election.
During the campaign, when the Department of Homeland Security and Office of the Director of National Intelligence announced they were "confident" Russia directed email hacks related to the election, Trump dismissed their conclusion.
"Maybe there was no hacking," he said during an October 2016 debate with Hillary Clinton.
He also famously suggested during the race that, even if there was interference, Russia was was not necessarily behind it.
"I don't think anybody knows it was Russia that broke into the DNC," Trump said during a September 2016 debate. "It could be Russia but it could also be China. It could also be lots of people. It also could be somebody sitting on their bed that weighs 400 pounds, ok?"
Trump has continued to cast doubt on Russian interference as president, including in 2017, when he told reporters he believes Putin over the "hacks" in his own intelligence community.
"He said he didn't meddle. I asked him again. You can only ask so many times," Trump said aboard Air Force One in November. "Every time he sees me, he says, 'I didn't do that.' And I believe, I really believe, that when he tells me that, he means it."
His latest comments questioning Russian interference — which also included his routine complaints about the "witch hunt" against him and those associated with it — came ahead of a planned July 16 summit with Putin in Helsinki.
According to the White House, the two leaders will "discuss relations between the United States and Russia and a range of national security issues."
National security advisor John Bolton in a meeting with Putin on Wednesday told the Russian strongman he hopes the two countries can find "areas where we can agree and make progress together."
Trump — who first met with Putin in July 2017 — has long pushed for warmer relations between the two former Cold War adversaries, even as he's developed icier relations with traditional U.S. allies like Canada and France.
He has not only seemed reluctant to blame Russia for its apparent interference in the 2016 election — he has also downplayed the country's other malicious activity, including its 2014 invasion of Crimea that got them booted from the G8.
In calling for Russia to be readmitted to the G7 earlier this month, Trump appeared to blame former President Barack Obama for Russia's invasion of Crimea more than Putin.
"President Obama lost Crimea because President Putin didn't respect President Obama, didn't respect our country and didn't respect Ukraine," Trump told reporters earlier in June. "President Obama gave away Crimea. That should have never happened."