Movement Must-Reads: Alexandria Ocasio-Cortez, Candace Owens' bigotry and the fall of #PermitPatty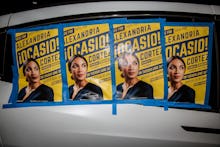 It's been a gutting week in national news, with a remarkable primary election victory for a Latina socialist from the Bronx, in New York City, overshadowed by the fatal police shooting of a black 17-year-old and a series of devastating Supreme Court developments, with Muslims, women and many LGBTQ people on the losing end.
Read on for more.
From Mic:
Natelegé Whaley on the wave of businesses pledging to divest from TreatWell, the medical cannabis company whose CEO, Alison Ettel — aka #PermitPatty —threatened and then pretended to call the police on an 8-year-old black girl selling water without a permit in front of a San Francisco apartment building.
A.P. Joyce on the seismic primary election victory of Alexandria Ocasio-Cortez, a Latina socialist from the Bronx, in New York City, over Rep. Joe Crowley, who many expected to be in the running for speaker of the House should Democrats regain a majority of that congressional body in November.
(See Mic's early coverage of Ocasio-Cortez's campaign here.)
And three from Chauncey Alcorn: On the efforts of Muslim activists to regroup after the crushing Trump v. Hawaii Supreme Court ruling that upheld President Donald Trump's travel ban targeting Muslim-majority countries. On the fatal police shooting of Antwon Rose in East Pittsburgh, Pennsylvania. And on advocates' calls for black conservative YouTube star Candace Owens to publicly address her history of virulent transphobia — and specifically, to bring that history to the attention of reality TV star and transgender advocate Caitlyn Jenner, whose former stepson-in-law, rapper-producer Kanye West, is arguably Owens' most famous proponent.
From elsewhere:
New York magazine's dive into the post-presidency life of Barack Obama.
Actor Terry Crews' powerful testimony before the Senate Judiciary Committee about his sexual assault at the hands of a Hollywood agent. Watch it at Variety.
The Atlantic on the impending battle over Roe v. Wade, the 1973 Supreme Court ruling that affirmed a woman's right to abortion, which looks to be in certain peril after conservative swing-vote Justice Anthony Kennedy announced his plans to retire.
And this op-ed at Time by Jim Obergefell, whose Supreme Court case Obergefell v. Hodges resulting in a ruling that legalized gay marriage in 2015, on Kennedy's retirement.
That's all for now. Until next week.
— Zak Cheney-Rice, Editor, The Movement