At the Special Olympics, gamers with disabilities will finally get a chance to compete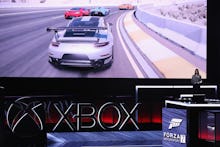 Video games rarely come to mind when we think about the Special Olympics. In a pilot program, the Special Olympics will now include an esports tournament.
Players with disabilities are set to compete against each other in the Xbox One racing game Forza Motorsport 7 in Seattle on Monday. The game is a perfect match for the Special Olympics, Katy Jo Wright, director of gaming for everyone at Microsoft, said in an interview, because there are several accessibility features built into the game itself.
"Forza has multiple types of driving support," Wright said. "One feature offers colorblind-friendly racing lines, another offers friction assist to stop players from getting stuck in sand or grass."
Microsoft's tournament in the Special Olympics isn't their first attempt at making gaming more accessible. The company's upcoming adaptive game controller — designed for those with motor disabilities — arrives in September. While created with accessibility in mind, the adaptive controller won't be used in July's tournament, as the Special Olympics centers on people with intellectual disabilities (people with physical disabilities compete at the Paralympics).
"Special Olympics athletes can range from someone with down syndrome, to cognitive disabilities, to even autism," Beth Knox, president and CEO of the Special Games, said in an interview. "Those competing in the gaming tournament is literally that full gamut."
Xbox's Special Olympics tournament will be different from other esports competitions in other ways, too. "The biggest difference from a more traditional esports tournament is the unified teams," Wright said. "Unified teams are made up of two people: one person with and one person without an intellectual disability."
Microsoft itself has worked with the games since 2014. As the official technology partner of the Special Olympics, Microsoft has provided the games with access to their cloud platform to track athletes. This year, in addition to the tournament, the company will provide over 2,000 employees to help volunteer with the Special Olympics games as judges and even coaches to those competing.
The company officially announced that it would take part in this year's Special Olympics with a tournament at University of Washington in May.
"Competitive video gaming is enjoyed by players around the world, and our goal with this pilot tournament is to challenge biases and breakdown barriers while providing an empowering and fun experience for all players," Phil Spencer, Microsoft's head of gaming, said in the announcement post.
If the pilot program is successful, the Special Olympics could add the multi-million dollar industry of esports to their regular lineup. A tournament placing this level of importance on accessible gaming could mean greater attention given to players with all types of abilities.