Immigrant children as young as 3 are reportedly being forced into court hearings alone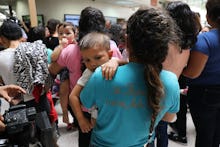 As the Trump administration scrambles to comply with a federal judge's order that the immigrant children and parents the government has separated at the border be swiftly reunited, the Texas Tribune reported that some kids as young as 3 years old are being made to attend their own immigration hearings alone.
Immigration attorneys from three states told the Tribune on Thursday that the minors are being forced to sit through their own deportation litigation unaccompanied, with some of the children too young to even remotely understand the proceedings.
"We were representing a 3-year-old in court recently who had been separated from the parents," Lindsay Toczylowski, executive director of Immigrant Defenders Law Center in Los Angeles, told the Tribune. "And the child — in the middle of the hearing — started climbing up on the table. It really highlighted the absurdity of what we're doing with these kids."
In the wake of the Trump administration's since-canceled policy of separating immigrant families at the border, more than 2,000 children have been thrust into care facilities and foster homes in various, sometimes far-flung parts of the country. Even before a San Diego judge issued a preliminary injunction to stop the practice, mandating that children younger than 5 be reunited with their families in 14 days and children 5 and older be reunited in 30, the government insisted it was attempting to put the families it had splintered back together. Yet the logistical challenges of that process — including a lack of basic infrastructure that links parents to their children — have led some to speculate that it will take much longer than the given timeframe for those reunifications to happen.
Jane Aronson, who founded the Worldwide Orphans Foundation in 1997, said the decision to send unaccompanied children through the court system alone seemed "ill advised."
"What usually happens is there's an advocate appointed to the child, usually a social worker or highly trained psychologist, to represent and advocate for the child's personal needs," she said in an interview.
Aronson, whose body of work has spanned decades and primarily focuses on using play to intervene and treat trauma and stress toxicity in children and adults, said that in general, separating parents from their children in stressful situations where there's legal involvement can have deleterious effects on a child's mental and physical well-being.
"Even if they change the laws and they reunite the children with their parents, if the parents are in a place where they're living in cages as depicted in the news, these detention camps are not environments that make children feel comfortable and happy," Aronson said.
Indeed, the emotional well-being of the children who have borne the brunt of Trump's "zero tolerance" policy has been repeatedly called into question, particularly in recent days.
"The children are left abandoned, crying, upset, often extremely upset to the point of disassociating, where they become resigned to their situation and hopeless," she said. "They have psycho-motor retardation, they move slowly, they lack facial expressions."
On Tuesday, New York Attorney General Barbara Underwood filed a separate lawsuit against the Trump administration over its family separation practice, saying the children it has affected are "suffering extreme trauma."
In particular, the suit details the experiences of one South American boy who, as a result of being separated from his father at the Mexican border, attempted to jump out of a second-story window at the group home where he was being held. The suit also states that at least 12 other immigrant children have been treated for physical and mental illnesses, including depression and anxiety, at New York City hospitals.
Steve Lee, a child psychology professor at the University of California, Los Angeles who spoke to the Tribune, echoed Aronson's claim that forcing young children who have already been enduring the trauma of family separation into the court system is "incredibly misaligned." 
"That couldn't be any less developmentally appropriate," he said.