Did Trump get anything out of Kim Jong Un in Singapore?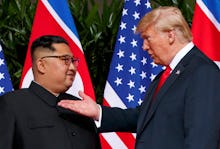 It's not clear what the United States will ultimately get out of President Donald Trump's historic meeting with Kim Jong Un.
Though the president has said there is "no longer a nuclear threat" from North Korea since he met with the country's strongman June 12, recent revelations suggested Pyongyang hasn't yet done anything to change course, whereas Washington has already made concrete concessions.
Satellite images captured June 21 and released Wednesday suggest North Korea has not done anything to dismantle a nuclear test site Trump previously claimed they were "destroying" and that the country is actually ramping up one of its nuclear production facilities in the wake of the summit — calling into question whether the regime does, in fact, intend to denuclearize, as the U.S. wants it to.
Secretary of State Mike Pompeo said Thursday that North Korea had yet to return the remains of deceased U.S. troops, a goodwill measure Trump has repeatedly said Kim's already made.
It's hard to know if anything more has or will come from the Singapore summit, in part because of a lack of information from the administration.
"We are in the dark here in the Senate because the White House still hasn't briefed us on the outcome of the Singapore discussions," Sen. Tim Kaine (D-Va.) said in a statement to Mic. "We need to get briefed by the administration on their own actions and what commitments, if any, were made during the meeting."
And though it's unclear what Kim has given up, he seems to have benefited from the summit nonetheless.
The U.S. agreed to suspend its joint military exercises with South Korea, something the Kim regime has long regarded as a provocation. Trump echoed that sentiment in announcing the move, describing the routine exercises as "war games."
The mere act of meeting with the U.S. has also seemed to help North Korea.
Trump offered eyebrow-raising praise for the young dictator, something critics have argued lends undeserved legitimacy to the regime on the world's stage and glosses over its atrocious human rights record. Further, the meeting appears to be allowing North Korea to get closer to China, which is likely to ease sanctions against Pyongyang in response to the meeting — a huge win for North Korea, as China is its biggest trading partner.
According to Jenny Town — managing editor of 38 North, which originally published the satellite photographs — the two parties are only at the beginning of what could be a long process.
"The summit declaration simply set the agenda of what needs to be negotiated," Town said in an email. "North Korea's moratorium on nuclear and missile testing is helpful to creating the right environment for negotiations to continue, and dismantling test facilities can help formalize this testing moratorium."
At the very least, the Singapore summit has eased tensions on the peninsula and represents an improvement from 2017, which saw Trump and Kim trading schoolyard insults and nuclear threats. It also paved the way for future negotiations. And while the U.S. stopped its "provocative" military exercises with South Korea in the region, the Trump administration can reinstitute them if it sees fit.
However, Town said nothing appears to have been done yet to address the deeper issue of North Korea's nuclear capabilities.
"These test-related concessions do not yet address North Korea's core [weapons of mass destruction] capabilities, and there is still a lot more work to be done from both parties to move down the road to denuclearization," Town said.