While You Weren't Looking: 5 stories from the Trump administration that aren't about SCOTUS picks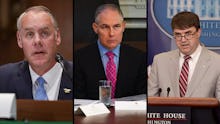 This week the news was dominated by the shocking announcement that Supreme Court Justice Anthony Kennedy would retire from the bench, as well as by the horrific mass shooting at a newspaper in Annapolis, Maryland.
But while news continued to break day after day, major stories from inside the Trump administration went largely uncovered.
Here are five major stories you may have missed.
The Fox News CEO who resigned amid harassment scandal gets a job at the White House
In May of 2017 Fox News co-president Bill Shine was forced to resign amid mounting criticism of his handling of the conservative network's endemic sexual harassment problems.
Now he is going to work for the Trump administration.
On Wednesday ABC News was first to report that Shine would be joining the Trump communications team as deputy chief of staff for communications.
Shine left Fox News over criticism of his role in handling sexual harassment allegations against the network's star anchor Bill O'Reilly, as well as his role in abetting his predecessor, Roger Ailes, who was also accused of sexual harassment.
Trump's VA secretary sails through confirmation hearing
Last month Trump tapped Robert Wilkie to lead the Department of Veterans Affairs. Wilkie is a Washington veteran with decades of experience in military affairs.
He's also a man with strong allegiances to an insurrectionist movement that killed hundreds of thousands of U.S. service members in order to defend slavery.
Wilkie is reported to have been a member of the group Sons of the Confederacy, which celebrates the heritage of Confederate soldiers. A former aide to the notoriously racist Sen. Jesse Helms, Wilkie has a history of making controversial statements in defense of the confederacy, that were chronicled by the Washington Post ahead of his confirmation.
He also led the campaign to defend Trump's bigoted ban on allowing transgender people to serve in the military.
But, while both of those issues were raised at his confirmation hearing on Wednesday, the overall hearing was widely regarded as a smooth ride for Wilkie who is expected to now sail through to confirmation.
HHS watchdog launches investigation into conditions at immigrant detention facilities
The inspector general for the Department of Health and Human Services is launching an investigation into the conditions at detention centers used to house undocumented minors, according to a report from the Hill.
The probe will focus on health and safety issues concerning the children being detained in those facilities.
Last week HuffPost reported that officials at HHS were routinely drugging migrant children without parental consent. One child recounted having been thrown to the floor and forced to take medication that had severe side effects. The child gained 45 lbs in the course of two months.
Another child reportedly had been so heavily dosed that she repeatedly became unable to walk.
The Office of the Inspector General says that their investigation will look specifically at " issues such as employee background screening, employees' clinical skills and training, identification and response to incidents of harm and facility security."
Interior Department watchdog investigating Secretary Ryan Zinke over land deal
The inspector general for the Department of the Interior is opening an investigation into Secretary Ryan Zinke's role in a Montana land deal involving a top Halliburton executive, according to a new report from the Washington Post.
The deal involves land owned by a foundation previously run by Zinke and sought by a group of investors that includes Halliburton chairman David J. Lesar.
Zinke stepped down as president of the foundation and was succeeded by his wife upon taking the role as Interior secretary.
Last week Politico reported that Zinke was still actively involved in the project raising questions about whether he used his position as secretary of the Interior for personal financial gain.
... And everything Scott Pruitt did
This week, Environmental Protection Agency administrator Scott Pruitt was accused by EPA staffers of trying to "ratfuck" his enemies.
In May, former top Pruitt aide Millan Hupp testified to Congress that Pruitt had asked her to assist him in acquiring a used mattress from a Trump Hotel. Shortly after that testimony, Hupp tendered her resignation with EPA.
Now the Daily Beast is reporting that an enraged Pruitt wasn't satisfied with simply seeing Hupp out the door.
Former senior EPA officials told the Daily Beast Pruitt began reaching out to allies in the conservative movement to slander Hupp in what those officials referred to as an attempt at "ratfucking" the former aide.
Americans also learned this week that Pruitt attempted to recruit executives from the oil and gas industry for jobs in his agency.
New emails revealed via a Freedom of Information Act request from the environmental group the Sierra Club show that Pruitt met with officials from the American Petroleum Institute with a plea to connect him with officials in the industry interested in working at the EPA.
A representative of the oil and gas giant ConocoPhillips later responded to Pruitt's request saying that someone in the company was interested in the offer, though that person's resumé reportedly never reached the EPA.